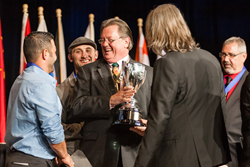 This competition is really all about the fellowship of photographers from all over the world. That being said, we're excited about our chances to keep the cup in the U.S.
ATLANTA, Ga. (PRWEB) March 03, 2015
Professional Photographers of America (PPA) announced today the medalists for Team USA at this year's World Photographic Cup (WPC) and it looks like Team USA will be in the running to keep the title it won last year.
Team USA has placed four medalists out of a possible 18—tied with Portugal for most at this year's competition. Team USA's four medals were earned by two PPA photographers. Iowa master photographer Ben Shirk, an Imaging USA and PhotoVision speaker, will earn three medals in three different categories (illustrative, portrait and wedding). Fellow master photographer Kenneth Martin, of Wisconsin, earned a medal in the landscape category, rounding out the medal haul for the stars and stripes.
"We're very proud of the stunning images created by PPA photographers for Team USA this year," said David Trust, PPA CEO. "This competition is really all about the fellowship of photographers from all over the world. That being said, we're excited about our chances to keep the cup in the U.S."
While the WPC committee announced this year's medalists, they did not reveal what color medal they will receive, building the suspense to the second annual event, to be held April 12 in Montpellier, France.
The WPC was founded as a cooperative effort by The Federation of European Photographers (FEP) and PPA. Its singular goal is to unite photographers in a spirit of friendship and cooperation.
"The WPC is the most esteemed photographic competition in the world, said Trust. "Being selected for Team USA is like being chosen for the photographic Olympic team. It's a pinnacle achievement."
Each country can only be represented by one team, which is created by a national association comprised of professional photographers. Each team picks its own photographers and images to enter.
Teams may submit up to three images in each of six categories: Portrait, Wedding, Commercial (including advertising, architecture, industrial, fashion), Illustrative/Digital art, Reportage/Photojournalistic and Landscape/Wildlife. Teams may choose to enter the images of a single photographer in multiple categories. However, no single photographer may have multiple images entered into a single category.
Gold, silver, and bronze medals will be awarded to the individual creator in each category. Teams are awarded points for each medal they receive (five for gold, three for silver, two for bronze). A single point is also awarded for each finalist per country. Five other photographers from the U.S. made it into the finals. Finalists were announced at Imaging USA 2015 in Nashville.
The team with the most points at the end of the competition judging will receive the prized World Photographic Cup. Team USA captured the inaugural WPC last year at Imaging USA in Phoenix.
Images were judged by a panel of 15 jurors from around the world, selected based on their photographic technique, experience and previous training as a photographic judge. The WPC and the 18 medal winners will be presented at the second annual event, April 12 in Montpellier, France.
With the call for entries going worldwide, 25 countries entered this year, including Australia, Austria, Belgium, Canada, Czech Republic, Denmark, France, Finland, Germany, Ireland, Italy, Japan, Latvia, Netherlands, New Zealand, Norway, Pakistan, Poland, Slovakia, South Korea, Spain, Thailand, Ukraine, the U.K. and the U.S. Entries for Team USA were chosen at the International Photographic Competition (IPC) last month in Atlanta. To be considered for entry to next year's WPC, U.S. photographers must first enter their images into the IPC.
To view the list of medalists and view all submitted images, visit WorldPhotographicCup.org.
About PPA:
Professional Photographers of America (PPA) is the largest international nonprofit association created by professional photographers, for professional photographers. Almost as long-lived as photography itself, PPA's roots date back to 1869. It assists more than 27,500 members through protection, education and resources for their continued success. See how PPA helps photographers be more at PPA.com.