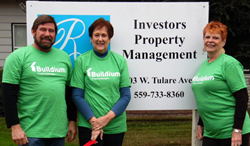 We researched property management software for three years before we chose Buildium. It seems we timed our decision perfectly. Buildium is easy to use and offers great support, all for a reasonable price.
Boston, MA (PRWEB) March 04, 2015
Buildium, LLC today announced that it has reached, and surpassed, the 10,000-customer mark. Additionally, Buildium's customers now collectively manage more than three quarters of a million units in 41 different countries.
"We come to work everyday with a singular mission: to help small businesses succeed, while setting the highest standard for the way business should be done," said Michael Monteiro, Buildium's CEO and co-founder. "And while we are always coming up with new ways to help our customers grow, it's humbling, to see how their success has vaulted us past the magical 10,000 mark."
Founded in 2004, Buildium makes property management software that helps residential property managers control every aspect of their businesses, from accounting and rental listing syndication, to managing tenants, handling maintenance requests, and more.
In 2014, the company celebrated its 10-year anniversary and grew employee headcount by nearly 70%. Buildium surpassed 10,000 customers in early January, and plans to hire more employees in 2015 to keep pace with its steady growth.
To celebrate this latest milestone, the company awarded its 10,000th customer, Brad Maaske, principal at Investors Property Management of Visalia, CA, a free year of Buildium property management software.
"We researched property management software for three years before we chose Buildium. It seems we timed our decision perfectly," Maaske said. "Buildium is easy to use and offers great support, all for a reasonable price."
"We're passionate about helping small businesses succeed because when you help the small business owner, you help strengthen the economy and the local communities in which those businesses operate," said Monteiro. "Ten years later, our reward is knowing we are helping more than 10,000 small businesses like Investors Property Management reach their goals."