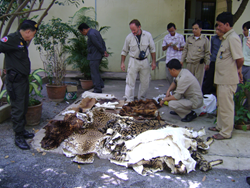 Since its launch, the WRRT has rescued over 60,000 victims from the wildlife trade.
Phnom Penh and New York City (PRWEB) March 03, 2015
The United Nations Environment Program recently announced the winners for the 2015 Asia Environmental Enforcement Award, which recognizes countries, organizations and individuals in Asia that demonstrate fearless dedication to combating environmental crime. The award ceremony will take place on May 20, 2015 in Bangkok, Thailand, before the Asia-Pacific Roundtable on Environmental Rule of Law for Sustainable Development.
Wildlife Alliance is proud to announce that the Wildlife Rapid Rescue Team (WRRT) has won this award in honor of their decade-long crusade to stop wildlife trafficking in Cambodia. This recognition also coincides with World Wildlife Day and this year's theme is #SeriousAboutWildlifeCrime. Wildlife Alliance hopes that this recognition on top of this important day dedicated to raising awareness about wildlife crime will highlight the urgent need for more support and action in order to end illegal trafficking of wildlife and wildlife parts.
Since 2001, the Wildlife Rapid Rescue Team, a wildlife crime investigation and counter-trafficking unit composed of government and non-government officials, have fought to curb the illegal and unsustainable wildlife trade in Southeast Asia. The WRRT conducts operations on roads, in restaurants, in forests and in known and suspected wildlife markets. The team travels around the country intercepting illegal shipments of wildlife, responding to tips from informants and anonymous sources, investigating known wildlife trade offenders for potential new offenses, and rescuing wildlife victimized by wildlife traders, or caught in human-wildlife conflicts. Since its launch, the WRRT has rescued over 60,000 victims from the wildlife trade, resulting in a 75% reduction in wildlife trafficking country-wide, and a 90% decrease in wildlife sales in Phnom Penh restaurants. Their tireless hard work has led to the arrest or fining of over 2,700 offenders. Without the constant surveillance of the WRRT, endangered species throughout Southeast Asia would have disappeared entirely. We applaud the Wildlife Rapid Rescue Team for their accomplishments and commitment to ending the illegal wildlife trade. For more information about the WRRT, visit http://www.wildlifealliance.org.
The WRRT is a Forestry Administration law enforcement unit led by the Forestry Administration, in cooperation with the Military Police, with technical and financial support from Wildlife Alliance.
About Wildlife Alliance:
Wildlife Alliance was founded by Suwanna Gauntlett to offer direct protection to forests and wildlife through cutting edge conservation programs. The organization provides technical assistance and critical thinking to governments and strives for stakeholder consensus in achieving solutions to multiple environmental threats, including animal trafficking, economic land concessions for agro-industrial plantations and mining, and community encroachment on forestland. Wildlife Alliance is the leader in direct action in the Southeast Asian tropical belt.