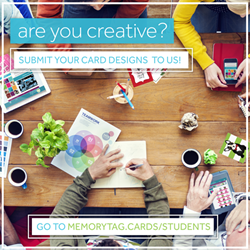 Now anyone from anywhere can start making money from lifetime greeting card royalties.
Woodbridge, CA (PRWEB) March 03, 2015
MemoryTag has announced its "Creating Artists" campaign, a program which allows students of art and design to submit artwork which will be considered for greeting cards that are sold in stores and online. By opening its doors to the public, MemoryTag's greeting card design department is hoping to increase exposure to its creative products while offering an income opportunity for those seeking real-world experience.
Students and designers may visit memorytag.cards/students to download templates and submit new artwork. Becoming a greeting card designer has never been easier.
MemoryTag products are already sold in retail outlets across the United States. The company recognizes the program as a mutually beneficial venture that will boost their greeting card catalog and give artists a nationwide audience.
"The greeting card industry is huge. It's a great opportunity for creative students to make their first step towards a professional career," says MemoryTag CEO, Robert Beadles.
Beadles continues, "In Today's world, students are struggling to pay the bills, surviving as best they can. Now anyone from anywhere can start making money from lifetime greeting card royalties. Do what you love, receive nationwide recognition, and get paid. For many artists, it's a dream come true!"
MemoryTag is looking for designs that are fun, original, and creative, spanning all occasions. Once the submission is approved by MemoryTag, the designer's artwork is made available in retail and online catalogs, and the designer receives a royalty compensation for every card sale that displays their artwork.
On the submissions page of MemoryTag's website, students are able to include school and instructor info as well. This allows teachers to utilize the program as a class project that gains the students real world experience. Every submission by the student can then be copied to the teacher for grading. However, teachers are encouraged to participate as well.
"This campaign is not limited to students. Teachers are also welcome to join in the fun!" says Beadles. "After all, we need to show appreciation and equal opportunity for our teachers. There's a lot of talent guiding our students. We're eager to see what they produce!"
MemoryTag greeting cards are positioned to make big waves in the marketplace. Unlike traditional cards, MemoryTag cards allow the user to add a custom video message and digital gift card with their phone. On track to be the third largest greeting card company by year's end, MemoryTag is looking forward to sharing the success with students and teachers.
For more information, visit memorytag.cards/students.
#creatingartists