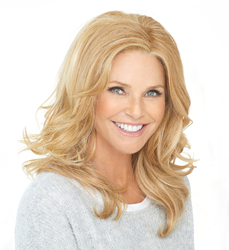 (PRWEB) March 03, 2015
On March 2, Hair2wear added a new wig style, "Call Back," to its Christie Brinkley Collection, which features wigs that are inspired by the iconic model and actress. The Call Back wig was designed in response to fan requests to imitate Christie's signature style, which is the go-to hairstyle that Christie creates with the 16" Hair Extension; the wig is available in Christie's natural shade of Medium Golden Blonde, as well as 13 additional color options, so that shoppers can choose between capturing Christie's exact style and creating a more customized look. Like other hairpieces in the Christie Brinkley Collection, the Call Back wig will feature a comfortable and adjustable fit, a convincing natural appearance, and attractive synthetic fiber that allows for easy and heat-friendly styling. Starting on March 2, shoppers can view and buy the Call Back wig on Wigs.com where a selection of 12 wigs from the Christie Brinkley Collection are currently available.
Hair2wear offers a wide variety of wigs and other hair products, including extensions, wraps, and headbands, making it easy for every shopper to find the right style. Hair2wear provides special resources to help first-time shoppers identify their facial shape and their ideal color shade so that they can select the most flattering wigs or hairpieces; Hair2wear also shares extensive information and tips on cleaning, styling, wearing, and putting on wigs, extensions and other wearable hair products that the company sells. These measures ensure that each shopper can find the most flattering and best fitting wig without visiting a physical store location.
About Hair2wear
Hair2wear specializes in trendy, high-quality wigs and other hair products, including extensions, clip-in bangs, hair wraps, and braided headbands; the company's offerings include a collection of alternative hair products that supermodel Christie Brinkley designed and wears regularly. Hear2wear chooses beautiful, natural-looking products that use the latest technology, all while offering shoppers a range of prices to suit any budget; along with attractive hair products, Hair2wear also carries various care products and accessories, including styling brushes, color rings, wig stands, and wig caps. To learn more about Hear2wear, please visit http://www.hair2wear.com.