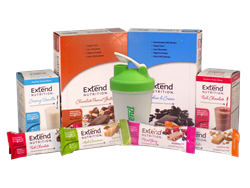 "Extend Nutrition snacks helped me control my appetite all day, so I could eat the way I knew I should. As a result, I lost 47 pounds in just one year!" (Terry West Gahanna, OH)
St.Louis, MO (PRWEB) March 03, 2015
Extend Nutrition, a leading nutritional snack company with the only snacks shown to reduce the amount of calories consumed at the next meal by an average of 21%* introduces their new "Snack-2-Health Kit." There are no lifestyle changes needed and no program to abide by. Consumers just have to eat 2 snacks per day.
The starter kit contains 60 servings of nutritional bars, shakes, and more. Each serving contains a patented blend of protein, fiber, healthy fat and complex carbohydrates that helps to control blood sugar for six to nine hours. This formula was developed and tested by Dr. Francine Kaufman.
The "Snack-2-Health" Kit is now available for purchase at http://www.ExtendNutrition.com for $103.90. For a limited time, consumers can save 30% by using the code "KIT" during checkout. Consumers also receive a recipe guide, blender bottle, and support materials.
"Trying a new weight loss plan can feel overwhelming," states outreach manager Jonathan Lindberg. "There is a plethora of contradictory health and nutrition information available online, making it nearly impossible to make healthy decisions. With our new Snack-2-Health Kit, we are confident that consumers will find snacking very simple and it will make healthy decisions easier."
According to the Centers for Disease Control and Prevention, 68% of American adults are overweight. The spread of the "Western diet," which consists of simple carbohydrate foods and lacks protein, has helped fuel an increase in both obesity rates and diabetes.
To help combat this epidemic, Dr. Kaufman took to her very own kitchen and created the Extend Nutrition formula.  The doctor-developed snacks are low-glycemic, meaning that the complex carbohydrates help promote healthy blood sugar levels. These products are clinically proven and are used by people around the world, with over 25 million snacks sold to date.
"Extend Nutrition is truly the best line of snacks on the market...My patients drastically improved their blood sugar control and experienced decreased hunger – aiding in weight loss," stated Christopher Mosunic – PhD, RD, CDE (Former Director of the Weight Loss and Diabetes Center at Greenwich Hospital, CT)
Pilot versions of this program have helped consumers see serious results in their weight loss plan. "Extend Nutrition snacks helped me control my appetite all day, so I could eat the way I knew I should. As a result, I lost 47 pounds in just one year!" (Terry West Gahanna, OH)
The Snack-2-Health Kit includes a full variety of 60 nutritional snacks, the "Extend Nutrition Snack-2-Health" PDF Guide including recipes for healthy meals, and a blender bottle that makes drinking shakes convenient. The kit retails for $103.90. For a limited time, consumers can save 30% by using the code "KIT" during checkout.
+++
Invented by Dr. Francine Kaufman, world-renowned endocrinologist and former President of the American Diabetes Association, the patented line of Extend Nutrition Bars, Shakes, Crisps and Drizzles are delicious nutritional solutions clinically-proven to help control blood sugar for up to 9 hours. Blood sugar control is the key to both diabetes and weight management. Extend Nutrition snacks have been enthusiastically recommended by thousands of certified diabetes educators and registered dietitians around the world for over 10 years.
Extend Nutrition products are now available at more than 25,000 retailers nationwide including your local Walgreens, CVS, Target, Kmart, amazon, extendnutrition.com and other leading retailers where diabetes nutrition products are sold. Extend Nutrition strives to provide families with simple nutritional solutions that deliver peace of mind and confidence resulting in a healthier and happier lifestyle.
###
*Results will vary by individual. These testimonials are from real customers, and were provided without any remuneration.  Their results were a result of their personal efforts to eat healthier and increase physical activity - along with healthier snacking from Extend Nutrition.