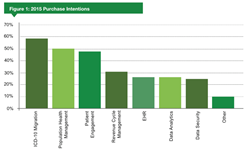 This report shows exactly where billions are going to be spent by American hospitals in 2015
American Fork, UT (PRWEB) March 03, 2015
A new, online report predicts where American hospitals will spend billions on healthcare technology in 2015.
The report from market research platform company peer60 received feedback from decision-makers at 25 percent of American hospitals. The research found nearly 60 percent of hospitals will address ICD-10 migration in 2015 while more than half of hospitals will make purchase Population Health Management solutions.
"Healthcare technology is advancing rapidly," peer60 CEO Jeremy Bikman said. "This report shows exactly where billions are going to be spent by American hospitals in 2015 to comply with government mandates and to better compete in this rapidly changing marketplace."
The report was compiled based on a survey of nearly 1000 hospital decision-makers representing purchase decisions for over 1400 American hospitals. Over 80 percent of respondents are hospital C-level executives with the remainder being other decision-makers: Vice Presidents, Directors, and the like. Participants listed the following solution areas they intend to purchase in 2015: Electronic Health Records (EHR), Data Analytics, ICD-10 Migration, Patient Engagement Population Health Management, Revenue Cycle Management, and Data Security.
Respondents described which vendors they are considering for any solution they intend to purchase. This allowed peer60 to project existing market share and mindshare for 2015 purchases. A significant number of vendors are detailed in this report including McKesson, Allscripts, Epic, Cerner, MEDITECH, The Advisory Board Company, athenahealth, Caradigm, Health Catalyst, MEDHOST, Cisco, among many others.
"This study is invaluable to anyone creating or purchasing healthcare technology in 2015," said peer60 Vice President Tyler Page. "The sample size is impressive, and we're providing this research at no charge to the market so they can see that research of this caliber can be done."
The full report is available at no cost to the public and can be downloaded at https://www.peer60.com/research/2015-purchasing/.
About These Reports
peer60 publishes reports on the healthcare industry every four to five weeks as a public service. These reports are available at no cost. If you would like to suggest a topic for a future peer60 report, email peer60 Vice President Tyler G. Page at tpage(at)peer60(dot)com.
About peer60
As a pioneer in Smart Data, peer60 is committed to helping businesses acquire crucial market and customer satisfaction data in a timely, affordable manner. peer60's platform enables companies to receive four times the response rate in a quarter of the time, reaching relevant audiences all around the world. Join the companies around the globe who are already getting Smart Data from peer60. For more information visit http://www.peer60.com or call (801) 692-1532.