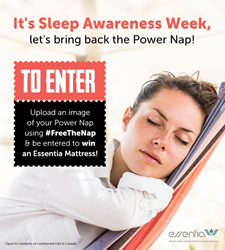 The lack of sleep cost the United States an estimated $63 billion each year in lost productivity
Boca Raton, Florida (PRWEB) March 04, 2015
According to The Sleep Journal, the lack of sleep cost the United States an estimated $63 billion each year in lost productivity. Perhaps napping is the solution... So, in honor of National Sleep Awareness Week, March 2 – 8, 2015, Essentia (http://www.myessentia.com), the world's only natural memory foam mattress company, is encouraging everyone to come into one their 12 retail showrooms and take a power nap. In addition, anyone who proudly shares their nap on social media (Facebook/Instagram/Twitter), using the hashatg #FreetheNap, will be entered into a contest for a chance to win an Essentia Classic 8 mattress (valued at $2,779).
Sleep Awareness Week is an annual public education and awareness campaign to promote the importance of sleep sponsored by the National Sleep Foundation (http://www.sleepfoundation.org). The week begins with the announcement of the National Sleep Foundation's Sleep in America poll results and ends with the clock change to Daylight Saving Time, where Americans lose one hour of sleep.
Fun Fact from the National Sleep Foundation – Some famous "Nappers" include: Winston Churchill, John F. Kennedy, Ronald Reagan, Napoleon, Albert Einstein, Thomas Edison and George W. Bush.
The contest is open to any resident of the continental United States and Canada. No purchase necessary. One randomly selected winner will receive an Essentia Classic 8 mattress, valued at $2,779. A complete description of the contest rules can be found at http://www.myessentia.com/contest-rules.
ABOUT ESSENTIA: Since its founding, Essentia has been making strides in sleep experiences by creating the only natural memory foam on the market. Essentia mattresses offer a smarter, healthier approach to sleep. Uniquely constructed using Hevea Milk (rubber tree sap), organic essential oils, natural plant extracts, and water, Essentia's natural memory foam provides an optimal sleep environment for body and mind, meeting the most important requirements in comfort, health, air quality and support, Essentia mattresses are recommended by pro athletes, celebrities and health gurus alike. Their products have been featured in 'O' Magazine, The Rachel Ray Show, The Dr. Oz Show, Meredith Vieira Show and Anderson Live. Essentia currently has 12 retail locations throughout North America including the recently opened showroom at Mizner Park in Boca Raton, Florida. For more information about Essentia, please visit http://www.myessentia.com.
###