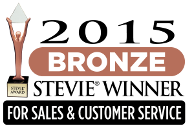 This year's Stevie Award winners are the highest rated in the history of the awards, and we congratulate all of the winners on their commitment to excellence and innovation.
Bridgeport, CT (PRWEB) March 04, 2015
GoECart, the leading provider of complete omni-channel commerce software for small and medium-sized businesses (SMBs), today announced that it has won a prestigious Stevie Award for 'Best Use of Technology in Customer Service' 2015 . The company was awarded Stevie's 'Bronze' Award for a number of innovations its client services department has implemented over the last year.
The Stevie Awards for Sales & Customer Service are the world's top sales awards, business development awards, contact center awards, and customer service awards. The Stevie Awards organizes several of the world's leading business awards shows including the prestigious American Business AwardsSM and International Business AwardsSM. The awards were presented to honorees during a gala banquet on Friday, February 27 at the Bellagio in Las Vegas. More than 500 executives from the U.S.A. and several other nations attended.
GoECart's CEO, Manish Chowdhary said, "We are honored that Stevie has recognized the important updates we made to our client service operations over the last 18 months. Our commitment to provide fanatical support to our clients remains steadfast as we will continue to improve now and in the future to provide them with cutting edge support for our integrated omni-channel commerce suite, GoECart 360."
Examples of new tools implemented by the company last year include:

Team Support Ticketing System – Team Support allows GoECart team members to handle more tickets by streamlining the process. Using the integrated Team Support dashboard, a customer service representative can take ownership of an open ticket or assign it to someone else on the team. It also gives each team customer insight via a unique Customer Distress Index (CDI). Team Support has enabled GoECart to support more clients in a better and more efficient way.
Pager Duty – Pager Duty provides alerting, on-call scheduling, and escalation to enable rapid problem solving for the GoECart support team. Whenever a ticket is opened, it sends alerts to the appropriate team members which they can acknowledge, reassign, or solve. This ensures that every ticket gets the immediate attention that it requires. With the implementation of Pager Duty, the average response time for GoECart support cases has gone down by over 30%, leading to greater customer satisfaction.
8x8 Voice Over IP (VOIP) Phone System – With 8x8, GoECart is better connected with its clients than ever before. Team members can take calls from their cell phones, tablets, or computers using a wireless or wired Internet connection, and they can now listen to their voicemail messages via email. The system also provides automated call recording. GoECart can leverage the information from recorded calls to train new team members and ensure high quality content and customer experience. Client call back times have decreased by 21% with the implementation of this new system.
The company has also made some enhancements to the customer service best practices it had previously implemented. These include regular use of social media channels like Twitter®, Facebook®, LinkedIn®, and YouTube® as well as updates to the company's Team Support Knowledgebase. Additionally, the GoECart team continuously seeks to expand its domain level expertise in the multi-channel commerce. The GoECart 360 suite includes technical integrations with over 50+ best of breed solution partners including the likes of Amazon®, eBay®, PayPal®, Google®, Avalara®, Endicia®, FedEx®, and many more.
GoECart's recent improvements in customer service are consistent with industry trends for online retailers. A recent Shop.org study conducted by Forrester Research cited that key investments in the customer experience helped digital retail businesses grow an average of 29 percent. Nearly all of 75 companies surveyed in Forrester's study planned significant investments in customer initiatives last year.
"Entries to the Stevie Awards for Sales & Customer Service awards have more than doubled over the past three years," said Michael Gallagher, president and founder of the Stevie Awards. "The widespread support of this program illustrates the importance of the functions it recognizes to business success. This year's Stevie Award winners are the highest rated in the history of the awards, and we congratulate all of the winners on their commitment to excellence and innovation."
The full list of award winners in the 2015 Stevie Awards can be found at http://www.stevieawards.com/pubs/sales/awards/426_2281_25576.cfm.
About GoECart
GoECart provides a complete software suite, GoECart 360, which enables SMB merchants to manage all aspects of omni-channel commerce — from ecommerce, order and inventory management, in-store POS to marketing, merchandising, e-marketplaces, fulfillment and customer service. GoECart eliminates technology and integration hassles, allowing businesses to run better and grow faster. The feature-packed GoECart 360 suite was designed from the ground up to be modern and meet the needs of today's empowered and connected customers. Additionally, GoECart's cloud-based delivery model delivers on the rewards of software-as-a-service (SaaS). These include zero investment in infrastructure, no integration headaches, free upgrades, and affordable, pay-as-you-go pricing.
About the Stevie Awards
Stevie Awards are conferred in six programs: The American Business Awards, The International Business Awards, the Asia-Pacific Stevie Awards, the German Stevie Awards, the Stevie Awards for Women in Business, and the Stevie Awards for Sales & Customer Service. Honoring organizations of all types and sizes and the people behind them, the Stevie's recognize outstanding performances in the workplace worldwide. Learn more about the Stevie Awards at http://www.StevieAwards.com and on Facebook, LinkedIn, Twitter, and YouTube.