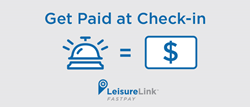 Our goal is to go above and beyond to make it easier for our lodging supplier partners to work with third party distribution channels.
Salt Lake City, Utah (PRWEB) March 04, 2015
Leisurelink has partnered with WEX Inc. to offer their vacation property suppliers the new LeisureLink FastPay program, a virtual payment method that speeds up the guest payment process on bookings by as much as 45 days, allowing payment upon guest check in.
LeisureLink FastPay is a single-use, "virtual" credit card number that replaces the standard payment process for bookings. Suppliers will no longer need to invoice third-party channels and await payment. At time of booking, a virtual credit card number is emailed to the supplier. Once a guest checks in, the supplier simply charges the single-use credit card and receives payment as quickly as any typical credit card transaction process.
"Our goal is to go above and beyond to make it easier for our lodging supplier partners to work with third party distribution channels," explains LeisureLink CFO George Trevino. "The FastPay program will accelerate payments and reduce work for our suppliers, as well as compliment the accounting, reporting and business analytics capabilities that our platform offers."
With this timely payment program, vacation property providers will enjoy increased cash flow and the elimination of the normal 45 day payment process. Benefits also include the decrease in administration costs with the removal of tracking deposits, invoices and paperwork as well as more efficient payments of third-party merchant sales.
Additionally, a dedicated Leisurelink FastPay call center will provide assistance with any questions about the new payment process. The improved cash flow and accounting management time savings will be invaluable to all vacation property partners of LeisureLink.
"LeisureLink has a great history of innovation and has been the proven leader of vacation rental technology since 2001," said Julian Castelli, the company's CEO and Director. "Our new leadership team has a renewed commitment not just to technology excellence, but to customer focus. We are proud to be developing and delivering the most comprehensive end-to-end solution in the market, and optimizing our client's success by offering the world class customer service and support."
Taking advantage of the new FastPay program is easy. Current LeisureLink customers just have to contact their account managers to sign up for the service. To request a live demo of the LeisureLink complete product suite of sales, marketing and distribution solutions, please visit the LeisureLink website or call 1-855-840-2249.
About LeisureLink
Salt Lake City-based LeisureLink offers vacation property suppliers the opportunity to distribute their inventory to top online travel agencies like Expedia, Booking.com, VacationRoost, and Orbitz; all major global distribution system players; and the top travel tour operators. Suppliers can manage their distribution from one platform –optimizing rates, availability, specials, and even content changes. Suppliers are provided with specialty distribution consulting and expertise from Account Managers who understand travel distribution, and can maximize exposure. Finally, LeisureLink consolidates all accounting, payables and receivables with a single, reliable source of payment, providing order and clarity to the often complex accounting issues in the world of travel distribution. For more information, visit LeisureLink.com
About WEX Inc.
WEX Inc. is a leading provider of corporate payment solutions. From its roots in fleet card payments beginning in 1983, WEX has expanded the scope of its business into a multi-channel provider of corporate payment solutions representing more than 7.9 million cardholders and offering exceptional payment security and control across a wide spectrum of business sectors. The Company's operations include WEX Bank, Fleet One, rapid! PayCard, Evolution1, WEX Australia, WEX New Zealand and WEX Europe, as well as a majority equity position in UNIK S.A., Brazil. WEX and its subsidiaries employ more than 1,700 associates. For more information about WEX, please visit http://www.wexinc.com.