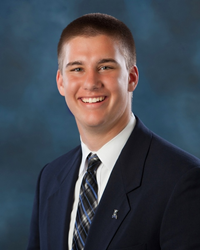 Kiski's Head Varsity Football Coach James Perry said, "Kevin is the next generation offensive linemen. He is 6'10, has a long reach, great bend in his knees and back and he can run!
Saltsburg, PA (PRWEB) March 03, 2015
The Kiski School announced that senior Kevin Kcehowski, son of Danielle and Kevin of Allison Park, PA, will attend Indiana State University to play football. Kevin recently signed his letter of intent in a celebration with Headmaster, Christopher Brueningsen, his family, coaches, and teammates. At The Kiski School Kchehowski participated in JV Cross Country his freshman year, played basketball all four years, and is a four-year letter recipient in basketball. He played football his senior year and received a letter for this past season.
Kiski's Head Varsity Football Coach James Perry said, "Kevin is the next generation offensive linemen. He is 6'10, has a long reach, great bend in his knees and back and can run! The upside is unlimited for this young man and, above all else, he is a mature and responsible individual who will be an asset to the entire Indiana State community."
He holds leadership positions with various clubs and is a Kiski Prefect. A Prefect, elected by the outgoing prefects and faculty, exhibits good judgment and maturity, contributes significantly to the life of the School, mentors younger students, assists residential leaders with evening study hall and other responsibilities. Prefects are selected based on their leadership abilities, academic excellence and campus involvement.
In addition to his excellent academic and athletic accomplishments, he has been involved in numerous clubs throughout his four years. He is a four-year member of the Culture Pot Club; elected vice-president his sophomore year and then president his junior and senior year. In addition, he participates in the Robotics Club, the Radio Club, and the Kiski Clay Breakers - a trap shooting club. He has been a K-Club member for the past four years and this year is a head tour guide providing campus tours to perspective students, their families and other visitors to Kiski.
His contributions to Kiski have been commendable and appreciated by administration, faculty, students and the entire community. Kevin said, "I believe that Kiski has not only given me the resources to succeed at every turn, they have also shown me how to properly utilize these resources and make the most of every second I have here. This School has taught me what it truly means to work hard as a student, an athlete, as well as a member of society beyond my years in school."
The Kiski School is an all-boys boarding school serving grades 9-12 and post-graduates. For more than 125 years, Kiski has witnessed a steady, substantial transformation while maintaining an intentional commitment to serving the unique learning needs of boys. Kiski provides an environment in which students can make the most of their potential as they grow in their knowledge of self and learn the mastery of academic disciplines and the value of athletic and artistic endeavors. Notable graduates included: Jack Hanna '65, David Conrad '85, James P. Moore Jr. '71 For more information about Kiski, call 877-547-5448 or visit http://www.kiski.org. or http://www.facebook.com/TheKiskiSchool or https:Twitter.com\TheKiskiSchool or Kiski's Instagram.