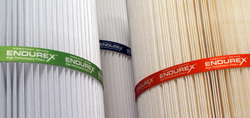 STERLING HEIGHTS, Michigan (PRWEB) March 02, 2015
The open pleats in Endurex RMO filters are strengthened with a proprietary media support structure called Reinforced Media Optimization (RMO). This support keeps filter pleats at optimum spacing, allowing for maximum loading on the media under pressure and more effective pulse cleaning without deforming or blowing out. The RMO support ribs are continuous for the full length of the pleats, ensuring no pleat collapse. Multiple RMO structures ensure the media surface is maximized throughout the whole filter.
"With this design, it's not about media quantity, it's about media optimization," says Brian Pitzer, Vice President of Sales. "When metalworking plants evaluate the filter's lifetime costs, the advantages of open pleat filters with Reinforced Media Optimization become clear."
Additional features of Endurex MRO filters from RoboVent include:

Wide pleat spacing (five pleats per inch of end cap) maximizes surface area of media available to dust and fume particles.
MERV 11-16 filtration efficiencies, with 99.99% particle capture down to 0.5 micron.
Single piece gasket with no joints, made of pliable, non-forming polypropylene provides a perfect air-tight seal.
Fast-curing urethane seal adheres to pan and media quickly and firmly.
Internal metal spiral core prevents filter collapse.
Cutting-edge pleating technology ensures proper calibration of the pleats and eliminates deformed or worn areas that compromise the integrity of the media.
A fabric band provides structural support instead of an exterior metal cage, allowing for better pulse cleaning of the filter with no blowouts.
About The Company
During the past 25 years RoboVent has established itself as leader in the field of air filtration with highly efficient, reliable and cost-effective systems installed at major manufacturing operations across North America. Applications include welding, cutting and metalworking; dust and lubricant mist collection; and general ventilation. At its core, RoboVent is an environmental problem solving company for process systems. Their expertise and resources in collecting, filtering and recycling contaminated air can be applied to almost any process in the manufacturing environment. For more information visit http://www.RoboVent.com
###
Contact:
Stuart Pollak
Marketing Director
614-498-2227
stuart.pollak(at)robovent(dot)com