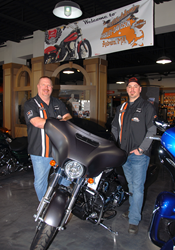 We come to work every day, continually trying to improve and see what we can do better. We really feel a sense of accomplishment at Sheldon's.
Auburn, MA (PRWEB) March 03, 2015
Sheldon's Harley-Davidson, under new ownership for only two years, was awarded Harley-Davidson Motor Company's prestigious Bronze Bar & Shield Circle of Recognition Award for the 2014 calendar year. This award is only received annually by 10 dealerships in the Northeast Market. Sheldon's was the only award recipient from Massachusetts.
Each year, this program recognizes and rewards the top performing U.S. Harley-Davidson dealerships at National and Market levels. The program includes a balanced set of measures, all of which support three key performance areas: providing an exceptional customer experience, sustainable dealer profitability, and focus on the dealers local market.
"Winning this award was a big accomplishment for us because we did it in our second year of owning this dealership," said General Operations Manager Chad Clark. "I was speechless and pleasantly surprised. I felt we were recognized for our hard work, and by such a tremendous brand like Harley-Davidson."
Sheldon's Harley-Davidson was founded in 1920 by N.F. Sheldon, Inc. and has been serving central New England for over 90 years, making it one of the oldest Harley-Davidson dealers in existence. After three generations, the owners of Sheldon's sold the business to "The Harley Guys" in 2013. The Harley Guys are General Operations Manager Chad Clark and General Sales Manager Bryan Castor.
Chad Clark, 44, was born in Ohio. He resided in Texas for several years before eventually moving to Massachusetts. His background includes several years as a district manager. He holds an MBA degree and he's one of Harley-Davidson's biggest fans, claiming ownership of nine new Harleys in the past nine years. He currently owns a 2014 Harley-Davidson Ultra Limited and he enjoys long-distance rides to places like Milwaukee, Nebraska, Missouri and beyond.
Bryan Castor, 36, was born in NW Ontario, Canada. He grew up in the small town of Sioux Lookout, Ontario, and attended Bethel College in Minnesota. Married for 15 years, Bryan is the father of four young boys and they all play hockey! He has worked for Harley-Davidson for 13+ years from North Carolina to Connecticut, and now in Massachusetts. Bryan rides a 2015 FLTRS.
"I guess I was a bit surprised," said Castor. "We have been working very hard and it seems to have paid off. To earn a Bar & Shield at any point is a huge accomplishment let alone in just two short years. I am proud of our staff and grateful for the customers that have given us the chance to be considered for this award. Being recognized as one of the elite Harley Davidson dealers in the country just confirms the fact that we have made the right decision and that our hard work is starting to pay off. This also tells us we are pointed in the right direction. This year 2015 will be our best yet."
Sheldon's carries a large inventory of new and pre-owned motorcycles, MotorClothes, Parts and Accessories, and they now have a new state-of-the-art Service Department that is celebrating with a Grand Re-Opening this spring.
"In order to win, you have to have a cohesive team that's all on the same page striving to be the best. At Sheldon's, we have a common goal and a common vision, to deliver a world-class experience to every customer every day," said Clark. "We couldn't have done this without our customers and we thank them for supporting us. We come to work every day, continually trying to improve and see what we can do better. I am humbled and proud. We really feel a sense of accomplishment at Sheldon's."
Clark added that The Harley Guys will celebrate with a customer party this spring. Sheldon's will receive a Bar & Shield plaque, and they have been invited to attend a trip to Italy with all of the 2014 Harley-Davidson Bar & Shield winners!
...
General Operations Manager Chad Clark (chad(at)sheldons(dot)com) or General Sales Manager Bryan Castor (bryan(at)sheldons(dot)com) can be reached at 508-721-9876.