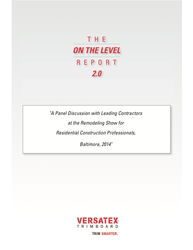 "We wanted to hear what high-end contractors experience, and what keeps them awake at night," says VERSATEX Vice President of Sales Rick Kapres.
Pittsburgh, PA (PRWEB) March 03, 2015
During the recent national Remodeling Show and Deck Expo in Baltimore, MD, Versatex Building Products, LLC assembled a panel of outstanding builders and remodeling experts, inviting them to share their professional insights. They have published a detailed account of the conversation. The "On The Level Report 2.0" is a first-hand roundup of frank comments from the field, and is designed as a resource for industry editors and reporters.
Versatex Building Products, LLC, a leading manufacturer of premier PVC trim products for residential construction, has just released its second "On the Level Report 2.0," a collection of builder insights about homeowners, materials, and the construction business.
"Under the headings, 'The Economy,' 'Labor,' 'Client Relations' and 'Design Trends,' we heard a surprising range of valuable comments," says VERSATEX Vice President of Sales Rick Kapres. "This the second time we've brought together our Contractors Council at a national trade show and asked them to give us their take on the industry, no holds barred.
"We wanted to hear what high-end contractors experience, and what keeps them awake at night. That's because we want to remain a center of expertise.
"But we invited journalists to listen in as well, to promote the free flow of ideas, which is good for the whole community of manufacturers, contractors, distributors and homeowners."
Among the report's highlights:

How, in 2014, construction surged in some regions, while elsewhere recovery lagged behind. (Builders who adopted innovative strategies were most likely to endure and grow.)
How, as skilled craftsmen become harder to find, contractors are evolving new tactics for recruiting, keeping and relating to their workforces.
How lessons from TV and online sources can make homeowners feel more like experts, but can strain builder/client relations.
How the evolution of floor plans, technologies, health concerns and cultural influences is driving historic shifts in the way homes are built.
Downloadable at http://versatex.com/press-releases-2015d the report presents dozens of straight-from-the-shoulder comments like the following, along with contact information for the high-end construction professionals who are quoted:
On doing more with less in a challenging market:
"We've eliminated the stuff that wasn't high-profit, and minimized our product line, so we have great products that are more profitable. …It's made me more efficient, and it's made our products better, our jobs easier, and our installations ten times better."
On "the vanishing craftsman":
"The demands for craftsmanship are increasing, but the availability of craftsmen is dropping. And that's going to lead to more and more assembly men rather than craftsmen or carpenters. … companies like Versatex [are] producing stuff that a craftsman would've made with a molding plane or a dado set … replacing the craftsmen with the product."
On budgets:
"What I tell people … is, 'You're on a tight budget? Go ahead! Splurge on one thing that's going to make you really happy, whether it's the countertops or the sink or the faucet or the range or whatever. … but let's hold the line on everything else.'"
And on rising distaste for maintenance:
"There seems to be a change going on in the attitude toward substitutes for natural materials … everybody wants a maintenance-free exterior. That's what all my [South Florida] clients talk about. … They just want to be told that it'll be maintenance free."
Background on the VERSATEX Contractors Council and the "On The Level Report 2.0" are available at http://www.versatex.com
About VERSATEX
Maintenance-free, long-lasting VERSATEX exterior trim materials and systems are manufactured by Versatex Building Products, LLC (fka Wolfpac Technologies, Inc.), of Pittsburgh, Pa., where state-of-the-art facilities produce cellular PVC extrusion products such as VERSATEX trimboards, sheet, bead board, moldings and prefabricated corners; the innovative VERSATEX soffit system; and the new, dimensionally compatible VERSATEX Max nominal 2-by boards. Details are posted at http://www.versatex.com.