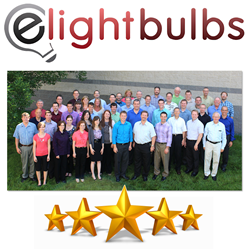 "Google Trusted Stores is simply the latest addition to our customer-satisfaction goal.", says founder, Paul McLellan
Maple Grove, MN (PRWEB) March 04, 2015
eLightBulbs, widely known as the web's largest lighting store with its incredible assortment of light bulbs, LED lighting products and Christmas Lights, was recently selected to join the Google Trusted Stores program. To help shoppers identify online merchants that offer a great shopping experience, the Google Trusted Store badge is awarded to e-commerce sites that demonstrate a track record of on-time shipping and excellent customer service. When visiting the eLightBulbs.com website, shoppers will see a Google Trusted Store badge and can click on it for more information.
"One of our primary business goals is to provide stellar service to our customers, which is evident in the fact that they have volunteered over 60,000 5-star ratings when describing their experience with eLightBulbs. Google Trusted Stores is simply the latest addition to our customer-satisfaction goal.", commented Paul McLellan, eLightBulbs founder.
As an added benefit, when a shopper makes a purchase at a Google Trusted Store, they have the option to select free purchase protection from Google. Then in the unlikely event of an issue with their purchase, they can request Google's help, and Google will work with eLightBulbs and the customer to address the issue. As part of this, Google offers up to $1,000 lifetime purchase protection for eligible purchases.
Google Trusted Stores is entirely free, both for shoppers and for online stores. The program helps online stores like eLightBulbs attract new customers, increase sales and differentiate themselves by showing off their excellent service via the badge on their websites.
eLightBulbs is the highest rated lighting distributer on the internet. They have been at the forefront of their industry since launching online in 1996. Their parent company, Service Lighting, Inc., has been in business since 1951 and is headquartered in Maple Grove, MN. eLightBulbs excels at providing cutting edge lighting products online, such as the highly talked about incandescent replacement bulbs, LED Light Bulbs, CFLs (Compact Fluorescents), Pre-Lit Christmas Trees and much, much more.
Low prices and fast shipping on every type of light bulb available, at the highest rated lighting retailer online: eLightBulbs