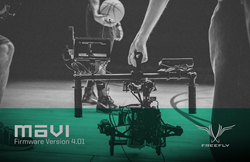 (PRWEB) March 03, 2015
Firmware version 4.01 introduces some features of the MōVI to enhance the system's capabilities on set and in postproduction. Among the new additions is Data Logging, which captures GPS and camera movement data from the MōVI to be saved via a Micro SD card slot on the MōVI GCU. This data can be extremely valuable for visual effects artists to understand, follow and work with the footage in the most productive way.
Freefly has also added Setdown Sleep functionality, which allows the MōVI to be set down anywhere on set when a MōVI stand is not readily available. Heading Assist is another new feature, which improves the functionality of the MōVI when used on a tripod and in other stationary applications and much more. All MōVI customers can download the update and release notes at http://freeflysystems.com/software-manuals/
Freefly will continue to develop and advance what is possible with the MōVI line of camera movement systems with future firmware releases. Follow us on Twitter, Facebook, Instagram, and Google+ to get the latest from Freefly.