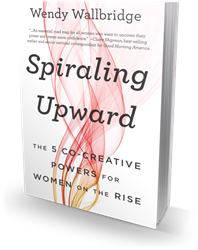 Silicon Valley, Calif (PRWEB) March 04, 2015
Women make up over half of the workforce and control 85 percent of consumer decisions. Global studies conducted by the likes of Goldman Sachs and Columbia University have found that companies employing women in senior positions or in large numbers outperform their competitors on every measure of profitability. Never before have women been so represented as decision makers in all areas of influence, so why do we not see more ladies leading in corporate America?
Wendy Wallbridge, strategic advisor and founder of On Your Mark Corporate Coaching, has observed over her more than twenty years of coaching that the traditional linear path to success, forged by men, ignores the essential components that are important to women, which are a sense of meaning and fulfillment. She's on a mission to re- pave this road to success.
Wallbridge's new book Spiraling Upward: The 5 Co-Creative Powers for Women on the Rise (Bibliomotion, March, 31, 2015), provides an alternative to the officially sanctioned linear path that sometimes results in women becoming second-rate versions of men. It outlines a step-by-step roadmap for professional women to engage life's vicissitudes as doorways to a greater version of themselves. Wallbridge offers the solution for women to achieve success on their own terms by becoming skillful with what she calls the co-creative powers of energy, thoughts, feelings, speech and action. An interview with Wallbridge went live on Fast Company this week.
Endorsed by New York Times best-selling author and senior analyst for Good Morning America, Claire Shipman, as well as New York Times best-selling authors, Marianne Williamson, Marci Shimoff and John Gerzema, Spiraling Upward comes at a perfect time. The 5,000 women that comprised the recent sold-out Silicon Valley LeadOn conference with Hillary Clinton evidences the urgency women feel to move beyond glass ceilings and rise in whatever way they feel called.
The Spiraling Upward book launch party will be held at 6:30PM at the JCC Palo Alto on Thursday, March 12th, 2015. Tickets include a catered wine and appetizer reception, a mini-workshop lead by Wendy Wallbridge, a copy of her book and a book signing. Tickets available here: https://spiralingupward.eventbrite.com
Wendy Wallbridge is a strategic advisor and pioneer in the coaching field. As the founder and principal of On Your Mark Corporate Coaching, Wallbridge works with Fortune 100 leaders and teams at organizations such as Intel, Apple, Wells-Fargo and Hewlett-Packard, among others. A popular Tedx speaker and producer of both the TEDxSandHillRdWomen conference and the Women's Evolutionary Leadership Forum, Wallbridge has earned a reputation for establishing breakthrough conversations that enhance the way women work, live, play, and contribute. She regularly presents to organizations as UC Berkeley Haas School of Business, the Professional Business Women's Conference, The Commonwealth Club, Women in Technology International, The Women's Leadership Forum and the 3% Conference, and also teaches an annual "Leading with Power & Grace" six-month group coaching series for women. For more information, please visit http://www.wendywallbridge.com.
###
For more information or to request an interview,
please contact Cathy Ritter cathy@onyourmarkcoach.com or (415) 883-1007.