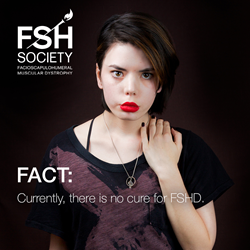 "These images show the pain and struggle we fight through on a daily basis," said Carlos Romero, a national champion paraclimber with FSHD from Seattle, WA.
Boston, MA (PRWEB) March 03, 2015
The FSH Society, the Massachusetts-based charity that has transformed the science of the little-known and incurable disease, facioscapulohumeral muscular dystrophy (FSHD), today announced the launch of its #CureFSHD campaign. The purpose of the campaign is to spread awareness and educate people about FSHD, one of the most common forms of muscular dystrophies.
To begin the conversation and kick off the campaign, today the FSH Society will begin sharing impactful photographs of people with FSHD overlaid with little-known facts, warning signs and impacts of FSHD. Each day, on its Twitter handle, @FSHSociety, the Society will release a new photo to teach the public about the realities of this disease, which affects an estimated one in 8,333 people. To get involved, the Society is encouraging consumers to share the photos over their Twitter, Facebook and Instagram accounts.
"For over 20 years, the FSH Society has been making a major impact on the FSHD community," said Daniel Perez, FSH Society president and CEO. "One of the biggest challenges of this disease is that it often goes undiagnosed. We are excited to launch this awareness-building campaign in hopes that it will help people understand the symptoms and side-effects that come with the disease."
The FSH Society hired professional photographer, Romana Vysatova, to set up a portable photo studio at the FSH Connect Conference and take a series of portraits to use for the campaign. This is an event that brings together hundreds of patients and family members with top researchers, doctors and health experts.
"These images show the pain and struggle we fight through on a daily basis," said Carlos Romero, a national champion paraclimber with FSHD from Seattle, WA. "It is such a simple task to share these images over social media; however, the impact it will have and the awareness they will bring to FSHD is truly remarkable."
Affecting an estimated 870,000 people worldwide, FSHD is one of the most common muscle dystrophies. The genetic disorder presents a lifelong progressive loss of skeletal muscles, typically attacking the muscles of the face (facio), shoulder blades (scapula) and arms (humerus), though it can progress to affect any skeletal muscle. Approximately one-quarter to one-third of patients end up in wheelchairs.
About the FSH Society
The FSH Society, founded in 1991 by two FSHD patients, is a world leader in combating muscular dystrophy. The non-profit has provided millions of dollars in seed grants to pioneering research worldwide, creating an international collaborative network of patients and researchers. The FSH Society seeks to serve as a source of information and support for all patients and families with FSHD; act as a driving force in the development of research directed towards treatments and ultimately a cure; and bring support to patients and research for FSHD through effective engagement of governmental and private sector organizations and entities. For six consecutive years, the Society has received the Charity Navigator's four-star rating, the highest distinction held by less than four percent of non-profit organizations in the country. The FSH Society offers a community of support, news and information for FSHD patients and families through its website at http://www.fshsociety.org. For more information about FSHD, please contact the Society at 781-301-6649.
Rosie Hale
SHIFT Communications
617-779-1893; FSHSociety(at)shiftcomm(dot)com