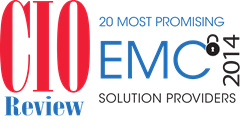 (PRWEB) March 03, 2015
IDS, a leading cloud services provider and data center technology integrator, announced today that it was named one of the "20 Most Promising EMC Solution Providers" by CIO Review. Selected by a notable panel of CEOs, CIOs, CMOs and VCs, IDS was recognized for their innovative use of EMC technologies and the critical value-add services they provide to leading IT organizations.
In a quickly evolving industry, technology partners like IDS are becoming even more critical. A recent study by Gartner, "CIOs: How to Fuel Growth and Drive Innovation," reported that CIOs believe their enterprises are only realizing 43% of technology's business potential, leaving 57% untapped. With the current cost of technologies and IT professionals, it's more important than ever for IT organizations to use partners like IDS to implement forward-thinking solutions that make a lasting impact.
Matt Massick, IDS CEO, explains that his team holds customer relationships as a top priority. He says, "At IDS we treat our customers like family. We're honored to receive an award that celebrates our passion and our ability to move IT forward."
IDS has a long-standing history of success with EMC and is the only partner to have received the EMC Partner Services Quality Award from EMC Corporation eight years in a row.
Justin Mescher, IDS CTO, explains that while IDS has been widely recognized for their customer-centric methodology, being listed as a top EMC provider is a new honor. He says, "EMC has always been one of our most strategic partners at IDS. The best-of-breed technology from EMC is the foundation of many of the solutions we provide for our customers, as well as our own Cloud. It is an honor to be recognized with such a prestigious award."
IDS is looking forward to continued growth and success in 2015.
About IDS
IDS is a data center technology integrator and cloud services provider based in Chicago, IL. IDS works with a select list of top technology manufacturers to deliver custom IT solutions to businesses worldwide. Primary areas of focus are storage, backup, disaster recovery, data analytics, virtualization, mobility, networking, compute, security, managed services, and cloud. Through a unique engineering methodology and high level of accountability, IDS has established itself as a premier solutions provider. For more information about IDS, visit http://www.idstorage.com or call us at 312.334.6400.]