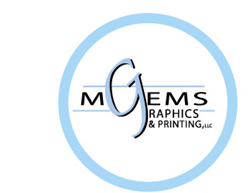 We Will Match Or Beat Our Competitor's Prices
Kendall Park, New Jersey (PRWEB) March 03, 2015
For 25 years, MGems Graphics and Printing LLC has been helping new businesses design their business cards, logo designs, post cards and website layouts. Their printers are ready. With the best designers, MGems can personally assist with the production of the brochures, postcards, and vinyl banners that will turn a vision into a successful brand.
Go to MGemsGraphics.net for amazing package deals as well as separate services based on each company's specific needs. With templates, recommendations, and marketing tips, trained experts can help to get new careers moving forward with help along every step of the way.
Find an amazing offer? MGems can promise to give a price that matches or beats it.
MGems is the perfect one-stop shop that has been catering to small business's marketing, design, printing, and mailing needs for 25 years. The team of experts consists of educated cutting edge graphic designers, programmers, marketing, and management level personnel who have prided themselves on a job completed with style, originality, and class.
As MGems grows and expands, so can new businesses.