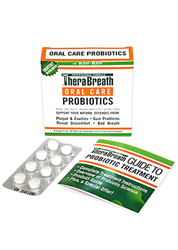 Probiotics boost the body's natural immunity.
(PRWEB) March 04, 2015
TheraBreath is proud to announce a new probiotic lozenge which, in addition to helping bad breath, could also help with overall health.
Many health experts agree that introducing healthy bacteria into the body may help ward off bad bacteria that can cause unwanted infections. While most people produce some level of healthy bacteria on their own, most will need the help of a probiotic to elevate the most crucial "good" bacteria to effective germ fighting levels.
Packed with the S. salivarius M18 & K12 strains of "good" bacteria, the TheraBreath lozenge provides the most effective strains of BLIS today. The TheraBreath probiotic is so effective that just eight days of consecutive use can lead to results including fresher breath, elimination of "morning" breath, fewer earaches and an improvement in the condition of the tongue, teeth and gums.
The product works by placing a dissolving lozenge in the mouth once a day for eight days. Probiotic bacteria begins to build a colony inside of the oral cavity as the lozenge dissolves. The longer the lozenge sits inside of the mouth the greater the colonization will be.
The best results happen when the probiotic lozenges are used for an eight day period once a month. This continued uses allows for the good bacteria colonies to continue to thrive.
Clinical research shows that continued use can help prevent bacterial cavities and tooth decay, reduce plaque and gum sensitivity, reduce bad breath and tooth staining, and boost the body's natural immunity to things such as strep throat and earaches.
The TheraBreath Probiotic lozenge is available for purchase online at http://www.therabreath.com or at Wal-Mart retail locations nationwide.
About TheraBreath
Since 1994, TheraBreath has offered premium quality products to remove bad breath and improve oral health. The company's founder and owner, Dr. Harold Katz, continually works to refine his original formula, which aims at destroying bad breath by attacking germs rather than masking the problem. Today, TheraBreath offers a wide range of products including gum and mints, mouthwash, teeth whitening, sprays and drops, toothpaste and oral care probiotics. For more information about the company, please visit http://www.therabreath.com.