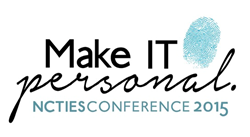 SMS Tech Solutions will be in Booths 245 & 344 and NCTIES this week.
Raleigh, NC (PRWEB) March 04, 2015
The 2015 NCTIES Conference will be held at the Raleigh Convention Center in Downtown Raleigh. NCTIES provides a multitude of professional development opportunities for the entire education team. This year's conference theme is, "Making IT Personal", and SMS Tech Solutions will be on hand to show Districts, Schools and Teachers just how they can achieve that.
"We have a lot to share and many special guests at our Booths", said Sally Shorb, President of SMS Tech Solutions. "We have representatives from ASUS, Bascom, a Google Specialist, Leaf Capital Funding as well as showcasing the Lock N Charge Carrier 30 Cart. These are all leaders in their field and we could not be more excited to have them along side SMS Tech Solutions."
Senior Account Managers with SMS Tech Solutions, John Ryder and Sharon Smith will be available at Booths 245 and 344 to talk about what's trending with technology in classrooms throughout the country and answer any questions about technology in schools and classrooms.
They will be sharing information about:

Migration services for Microsoft Office 365.
Adobe, the end of CLP, now what?
Security, not a matter of "if" but "when".
Google services.
New leasing options. An opportunity you should consider.
Adding on to your current wireless solution with Aruba instant.
Registration for the conference gives you access to over 150 sessions, informal meet and greet opportunities, our keynotes, exciting featured speakers, and vendor exhibit hall.
For more information about NCTIES and to register for the conference, please visit http://www.ncties.org. For more information about SMS Tech Solutions, please visit http://www.smstechsolutions.com.