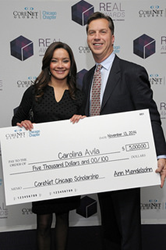 We are thrilled to announce the much deserving winners of our 2014 REAL Awards, who are the most outstanding corporate real estate professionals in the region
Chicago, IL (PRWEB) March 04, 2015
The Chicago Chapter of CoreNet Global, the world's premier professional association for corporate real estate executives and workplace professionals, announces the winners of the 2014 Annual Chicago REAL Awards.
Winners were chosen from a select group of finalists by a panel of corporate real estate end user judges from the world's top corporations. The judging process is aligned with the CoreNet Global international awards program. Winners were announced at the annual awards event on November 13, 2014 at the Trump International Hotel in the following categories: CRE Executive of the Year; Service Provider of the Year; Young Leader Award; Project of the Year Award; Sustainable Leadership Award; and the University Alliance Scholarship Winner.
"We are thrilled to announce the much deserving winners of our 2014 REAL Awards, who are the most outstanding corporate real estate professionals in the region," says Neil Desai, President of CoreNet Global's Chicago Chapter. "These individuals are committed to inspiring, transforming and driving progress in the Chicago community, which completely mirrors our vision for the Chicago Chapter."
The REAL Awards program supports the CoreNet Global Chicago Chapter Community Reinvestment Charity and University Alliances Scholarship.
Details on this year's winners:
CRE Executive of the Year
William H. Alexander, Vice President, Global Real Estate and Corporate Procurement, Harsco Corporation, has held various roles including real estate strategy and related procurement functions, serving most recently as Vice President, Global Real Estate & Facilities Management for Tyco International. He holds a Master's degree from DePaul University and a Master's of Corporate Real Estate designation from NACORE Institute.
Service Provider of the Year
John Wichman, Director of Business Development, DTZ, is a diverse global leader in property services offering industry leading, integrated solutions across investment agency, leasing agency, property and facilities management, project and building consultancy, valuation, and investment and asset management.
The Young Leader Award
Kelly Hackett, Director, Cushman & Wakefield, is responsible for providing strategic and platform support to clients' portfolios, in collaboration with her colleagues within C&W's Corporate Occupier and Investor Services (CIS) practice in the U.S. Central Region. She has more than eight years of experience in the corporate real estate industry and has held transaction and portfolio management positions with major service providers, as well as internal positions with national corporate end-users.
Project of the Year Award
Motorola Mobility's Chicago Headquarters Relocation (CBRE/ESD/Gensler/Skender) – Motorola Mobility relocated from its campus in Libertyville, IL to a new, LEED Platinum certified Headquarters at Merchandise Mart in the River North submarket of Chicago's CBD. The new space features an open, hip vibe complete with the now-standard tech company amenities like "micro-kitchens," lounging areas, a game room, a commons area and a giant rooftop deck. The relocation of Motorola downtown has served as a catalyst for like companies to attract tech talent back to the city.
Sustainable Leadership Award
Darrel Carter, National Real Estate Manager, Sprint Corporation, possesses experience in all facets of real estate including planning, procurement, design, construction, operation and disposition. He has extensive expertise in energy management, outsourcing, sustainability, document management, food service, conference centers, and executive services.
University Alliance Scholarship Winner
Carolina Avila, Asset Manager, Mid-America Asset Management, is an MBA candidate at Roosevelt University. She graduated from Northeastern Illinois University with a BS in Finance.
About CoreNet Global
CoreNet Global is the world's leading association for corporate real estate (CRE) and workplace professionals, service providers and economic developers. Over 8,000 members, who include 70% of the Fortune 100 and nearly half of the Forbes Global 2000, meet locally, globally and virtually to develop networks, share knowledge, learn and thrive professionally.
About The Chicago Chapter
The mission of the Chicago Chapter is to connect groups of professionals, end users and service providers in order to advance knowledge, promote personal excellence and add value to each individual and their respective enterprises. Our chapter accomplishes our mission through facilitating and sponsoring a variety of diversified programs that provide members educational and networking opportunities.
###