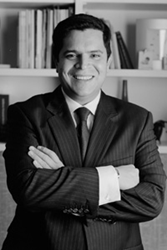 Salinas, CA (PRWEB) March 02, 2015
People with a single missing tooth or multiple missing teeth in Salinas, CA can now visit Dr. Andrés Herrera to receive dental implants, which are a healthy, long term solution for missing teeth. Dr. Herrera now accepts new patients, with no referral, for this procedure. These tooth replacement prosthetics are anchored in the alveolar bone like natural teeth, so they eliminate issues such as bone density loss. Unlike other tooth replacements, implants are permanently fixed and cause no damage to neighboring teeth.
The secure nature of implants — which prevents the prosthetics from slipping, clicking, or falling out of place — appeals to many people, but Dr. Herrera also encourages patients to consider dental implants for other reasons. The loss of just one tooth can allow other teeth to shift, causing bite issues, while the loss of several teeth can burden the remaining teeth, increasing the risk of damage or misalignment. Other prosthetics, such as bridges, can address this issue, but implants are the only tooth replacement that stops bone density loss. The stimulation from natural teeth signals the alveolar bone to regenerate; when the stimulation stops, bone breakdown begins, resulting in reduced jaw bone density and changes in facial structure. Implants provide the same stimulation to the bone as natural teeth. Additionally, implants can be placed without any alteration or harm to abutting teeth.
Dr. Herrera can replace missing teeth for Salinas, CA patients at his office. During an initial consultation, he evaluates whether the patient has adequate bone density and appropriate oral health to support the implant procedure. He also determines whether individual implants or implant supported dentures are the best option, depending on the extent of tooth loss. During the actual procedure, Dr. Herrera places the implant studs in the jaw bone and then lets them fuse into the bone for several months. Once this osseointegration is complete, Dr. Herrera can attach the restorative portions, leaving patients with implants that look and feel like natural teeth.
Dental implants are a suitable solution for many of Dr. Herrera's patients, though some may need other treatments to prepare for the procedure. For example, patients who have already lost bone density may need a bone graft to be eligible for implants. In light of these potential complications, Dr. Herrera advises patients with missing teeth in Salinas, CA to schedule an implant consultation soon after losing their teeth. Patients can visit Dr. Herrera's website or call his office directly to make the appointment. Patients who mention this release will receive a complimentary consultation.
About the Doctor
Dr. Andrés F. Herrera is a general dentist and oral surgeon with True Bite Oral Surgery and Implant Center, with locations in both Salinas and Freedom, CA. Dr. Herrera received his Doctorate in Dental Surgery degree from the Pontificia Universidad Javeriana and completed a six year Oral and Maxillofacial Surgery residency at Loyola University Medical Center in Chicago, IL. Dr. Herrera is currently a Diplomate of the American Board of Oral and Maxillofacial Surgery and the American Association of Dental Anesthesiology. Dr. Herrera is committed to continuing education and providing patients with individualized care. To learn more about Dr. Herrera and the dental services he provides, visit his website at http://www.montereypeninsulaoms.com/. You can also call the Salinas Office at (831) 269-3533 or the Freedom Office at (831) 740-8073.