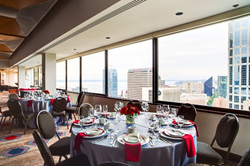 Seattle, WA (PRWEB) March 06, 2015
The Hilton Seattle Downtown hotel invites guests to enjoy an extensive brunch buffet at Top of the Hilton on Sunday, April 5, 2015. Easter will be enjoyed with an abundance of delectable entree choices, including Coriander crusted whole free range chicken with juniper berries and demi-glace, baked brown sugar and honey glazed bone in ham, salmon white cheddar quiche, roasted beef strip with Cognac demi-glace, and jalapeno crusted king salmon with citrus-chive butter sauce.
A breakfast bar will include yogurt parfaits, an omelet and egg station, waffle station, eggs benedict, crab cake benedict, fresh fruit and assorted pastries. Additional displays include assorted salads, Cajun shrimp deviled eggs, smoked trout, assorted desserts, and more. Families dining with children will enjoy a special buffet with kid's mac and cheese, chicken fingers and assorted vegetables.
Easter Brunch at Top of the Hilton is available from 11am until 3pm and is available for $45 per person, plus tax. Reservations may be made by calling 206-624-0500. The complete menu is available online at http://www.TheHiltonSeattle.com/easter.
The completely renovated downtown Seattle Hilton hotel proudly offers 6,000 square feet of flexible meeting space, a convenient downtown location and luxurious accommodations with panoramic views of Seattle and the Olympic Mountains. Upgrades to this Downtown Seattle hotel include a complete room renovation, a new restaurant specializing in contemporary American Cuisine with a Pacific Northwest flair, the addition of a new Executive Lounge on the top floor featuring panoramic Seattle views, upgrades to the street level hotel entrance, and complete renovations to the lobby, front desk, Lobby Lounge, and function space. The most notable renovation is the Top of the Hilton, which is now a top floor meeting and banquet space and features breathtaking views of Elliott Bay, Seattle skyline, and the iconic Space Needle.
The downtown Seattle Hilton hotel is the perfect destination for leisure and business travelers alike. Guests enjoy a central location with close proximity to Pike Place Market, the Washington State Convention Center and many great Downtown Seattle dining and shopping options. Amenities include a fitness center, room service, business center, concierge services, on-site parking, over 6,000 sq. ft. of versatile meeting space, multi-lingual staff, in-room mini-refrigerators, and much more.