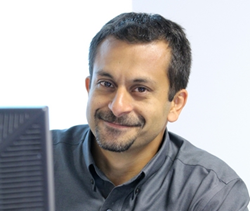 Plainfield, IL (PRWEB) March 03, 2015
Asif Rehmani, SharePoint Server MVP, MCT and CEO of VisualSP will present two sessions at CollabCon on Tuesday, March 10, 2015.
CollabCon takes place from March 9-11, 2015 at the Metro Toronto Convention Centre South in downtown Toronto. This collaborative conference brings together world-class speakers talking about their areas of expertise. Attendees are invited to connect with like-minded individuals, while expanding their knowledge base.
This 3-day conference offers:

Key note from Richard Harbridge (Microsoft Corp) an internationally recognized expert in Office 365, SharePoint and Collaboration
36 breakout sessions from world-class speakers and MVPs on the subjects of Azure, Office 365, SharePoint, Yammer.
Breakout sessions are sorted by topics such as: User Adoption/Experience, Strategy, Business Intelligence, Power User, Social, Governance, IT Pro
Full and Half Day Workshops featuring Strategic, How-To, and Case Study sessions
As part of the conference, Rehmani will deliver two sessions on Tuesday, March 10:

Tue 9:00 AM: Power User: No-Code Solution Creation Options for Non-Developers in SharePoint 2013
Tue 1:00 PM: User Adoption: Driving SharePoint adoption in Your organization
In addition, Rehmani's company, VisualSP is recognized as one of the conference sponsors. Attendees who register before March 6, 2015 and use special code VSPSPECIAL will receive 50% off the full conference rate. Register Here
About Asif Rehmani
Asif Rehmani is a SharePoint Server MVP, Microsoft Certified Trainer MCT, and Consultant. He has been a speaker on SharePoint topics at several conferences around the world including Microsoft's TechEd, SharePoint Conference, SPTechCon, SharePoint Connections, Best Practices Conference, SharePoint Saturdays, SharePoint Roadshows and more. He is co-author of the books "Professional SharePoint Designer 2007", "Beginning SharePoint Designer 2010" and "Real World SharePoint 2010" by Wrox publications. Rehmani is founder of SharePoint-Videos.com a company that empowers SharePoint users by providing online SharePoint education and support for SharePoint end users and administrators. http://www.SharePoint-Videos.com