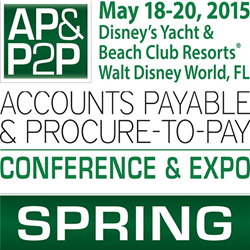 The AP & P2P Conference & Expo is an important investment for any organization needing to boost efficiency, improve processes, and realize success within their AP departments
Portland, ME (PRWEB) March 03, 2015
American Express, jetBlue, Aflac, Mayo Clinic, and others will share their AP expertise and regulatory updates at the AP Network's spring edition of the Accounts Payable & Procure-to-Pay Conference & Expo 2015. The conference & expo will take place May 18-20 at Disney's Yacht & Beach Club Resorts® Walt Disney World® Resort, FL.
"Every year hundreds of companies send their AP professionals and managers to this leading conference. They know attending the AP & P2P Conference & Expo will help AP professionals keep abreast of the latest industry buzz – including who's doing something new and radical, which organization possesses that tried and true process improvement others are seeking, and who is the most up to date on constantly changing regulations," said RD Whitney, Vice President of the Institute of Finance & Management (IOFM).
"The AP & P2P Conference & Expo is an important investment for any organization needing to boost efficiency, improve processes, and realize success within their AP departments," he added.
The AP & P2P Conference & Expo's agenda kicks off on Monday, May 18 with ala carte options for APS, APM, or CPRS certification training classes and exams; full or half-day workshops; a selection of complimentary solution provider workshops hosted by conference sponsors and an opening networking reception for all attendees in the exhibit hall.
Tuesday, May 19 and Wednesday, May 20 will feature inspiration-based keynotes, meet 'n mingle meals, peer networking roundtables, panel presentations, and concurrent sessions in four different subject areas. Topic areas for the concurrent tracks include AP University, Operations and Compliance, What's Working in Automation, and Solution Provider. Attendees are encouraged to mix and match their selection of track sessions to customize their learning experience to individual needs.
Attendees at AP & P2P Conference & Expo 2015 will interact with AP Managers, Vice Presidents, Finance Managers, consultants and more across multiple industries who have helped shape the present state of accounts payable including COKALA Tax Information Reporting Solutions; PayStream Advisors; The Hackett Group; Bavelos Group; Aflac; Omnicare; Kuni Automotive; Discovery Communications; The Fresh Market; Johnson and Johnson; Mayo Clinic; The Home Depot; jetBlue; Lockheed Martin; Unclaimed Property Recovery and Reporting; Cerberus Capital Management; HearUSA; Federal Express; GSC Finance; HD Supply; PNC and many others.
The conference will close with another full day of ala carte certification classes and exams, where attendees may become AP certified on-site. Certification exams are taken immediately following the relevant class and will wrap up by 4:30 pm EST.
For complete information about the Accounts Payable & Procure-to-Pay Conference & Expo, please visit the conference website at http://www.iofm.com/conference.
About IOFM
The Institute of Finance & Management (IOFM) is the leading source and largest provider of tools, resources, research, training, certification programs, and events in the rapidly evolving field of financial operations. IOFM runs three membership networks:The Accounts Payable Network (TAPN), The Accounts Receivable Network (TARN), and The Controller's Network (TCN). Membership helps professionals advance their careers and organizations improve their processes through access to proprietary information, best practices, and expert insights. IOFM is a business unit within Diversified Communications, a global organization operating on four continents and a major independent producer of events and media worldwide. For more information, visit http://www.iofm.com.