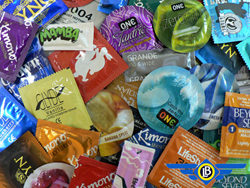 "A substantial, 35% of men require a smaller than standard condom. And when these men use a condom that properly fits – both pleasure and safety exponentially increase."
Ashland, Oregon (PRWEB) March 03, 2015
Lucky Bloke's recent research shows 35% of men require a smaller condom than those found at their chain or local drugstore. The inability to easily locate condoms that properly fit compromises the health and safety of both men and their partners.
Thus, Lucky Bloke is seeking international condom users, from every possible demographic, who'd benefit from testing and reviewing more secure (aka snugger fitting) condoms. This initiative intends to be the most comprehensive condom review ever conducted specifically created for men requiring a smaller, narrower condom than a standard size condom.
This opportunity is perfect for condom users (and their partners) who've experienced a condom that slips, slides or otherwise distracts them from having enjoyable safer sex. Interested parties are invited to join Lucky Bloke on their mission to bring improved and more pleasurable safer sex through better fitting condoms. Applicant's identities will be held in the strictest confidence.
Project Sure Fit - the latest Global Condom Review & Safe Sex Initiative presented by Lucky Bloke invites reviewers to sample offerings from top brands featuring smaller condom size styles such as GLYDE, Caution Wear, Atlas, Sustain, Lifestyles, RFSU, Beyond Seven, and the FC2 (Female) internal condom.
Official Lucky Bloke condom reviewers will receive free premium condom collections to sample with the partner of their choice in the comfort and privacy of their home (or wherever they may choose). They will then complete their reviews via easy, completely anonymous online questionnaires.
"A substantial 35 percent of men require a more tailored condom, " says Lucky Bloke CEO, Melissa White. "When a couple uses a condom that is larger than required, pleasure and safety are both compromised. We're here to show men, and their partners, sex with a properly fitting condom is much more pleasurable. And when sex is more enjoyable with condoms they're, not surprisingly, used more effectively and consistently."
What can participants expect? To date, of the 5600+ reviewers (in 28 countries) who've participated in Lucky Bloke's ongoing global condom reviews: 96% state the review experience greatly improved their relationship with condoms.
What does it take to become a condom reviewer for Project Sure Fit?

the love of great sex and a refusal to compromise on safety,
the desire to share your opinions to make future condoms better,
the need for a smaller-than-average-condom.
Applicants can use Lucky Bloke's easy condom size chart to determine if they qualify. A wide range of opinions are desired, so participation is encouraged whether applicants are condom experts or newer to safer sex.
Condom users who are up for the challenge can Apply Here.
Applicant's identities will be held in the strictest confidence.