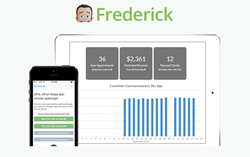 ...our primary goal is to ensure that the end product will allow small businesses access to the same tools as competitors and their big budget marketing and sales campaigns, and this latest integration epitomizes that mission.
Boca Raton, Florida (PRWEB) March 03, 2015
TouchSuite, one of America's fastest-growing payment processing and technology companies, has partnered with, Frederick, to offer the company's automated marketing platform as an integrated solution within its Firefly Salon point of sale system. The partnership creates an opportunity for TouchSuite's salon and spa clients to access Frederick's suite of intelligent digital marketing tools from within their POS unit in order to fill last-minute openings and increase revenue through fully automated, data-driven marketing campaigns.
"In everything we create here at TouchSuite, our primary goal is to ensure that the end product will allow small businesses access to the same tools as competitors and their big budget marketing and sales campaigns, and this latest integration epitomizes that mission," said TouchSuite CEO Sam Zietz. "Not only does the Frederick platform provide our clients with an easy, efficient, and cost-effective solution to increase bookings and boost profits, but it does this without taking up their time or forcing them to staff up on marketing."
Frederick's operates on cloud-based platform that has been fully integrated into Firefly to automatically trigger email and SMS campaigns to targeted consumers within that salon's client database that have been systematically determined most likely to book the open slots. Known for its expertize in building effective, retention marketing strategies, Frederick's campaigns can be set up in minutes and require nothing more of its user than a familiarity with the salon's own booking patterns and pricing. From here, Frederick will automatically launch targeted and effective business-building marketing tactics that will quickly result in increased bookings and revenues. TouchSuite is currently offering a free, two week trial with Frederick, which can be found in the features section of http://www.touchsuite.com/salon/firefly.
Consumers that are reached via a Frederick campaign can book the open slots online or from any smartphone, and the appointments instantly sync to that salon's Firefly booking calendar.
"We make it possible for salon and spa owners to consistently grow their revenues without any ongoing effort," said Frederick founder and CEO Corey Kossack. "Our team has created a platform that intelligently figures out what marketing to do on any given day, then executes that marketing automatically."
Frederick marketing campaigns are highly-targeted based on a customers' appointment history and preferences. The partnership supports TouchSuite's ongoing efforts to provide small businesses with the same, highly-advanced tools and resources of its national and global competitors.
The intuitive Firefly system packs unprecedented performance into a sleek, modern unit, equipped with an integrated credit card reader, built-in speakers and plenty of USB and serial-based ports. Designed as a seamless, single-unit solution, the system converges key business tools and solutions, including online booking and appointment setting, client database management, document management, an advanced, comprehensive marketing suite, social media integration, inventory control and accounting reports, and mobile accessibility and synchronization. It is the first and currently only POS system in the country with integrated EMV payment processing capabilities, and one of the only processors integrated with QuickBooks business software, drastically streamlining the customer transaction process and, subsequently, business accounting and administrative functions, by eliminating the need to manual reenter payment data.
About TouchSuite: TouchSuite is one of America's leading technology companies focused on the electronic payment space. It has been honored six times on Inc. Magazine's list of the 500 fastest growing private companies in America. The company's latest, patented point of sale system, The Firefly, offers the most advanced software on the market, with full mobile capabilities and a comprehensive marketing suite tailored for SMB retailers and salon and spa owners. The solution is fully integrated with cutting-edge payment processing capabilities, include ApplePay and other mobile transaction technologies, and is the first POS solution on the U.S. market with built-in, commercially viable EMV processing. TouchSuite is one of only a few processors in the country currently integrated with QuickBooks®, providing users with a more affordable payment processing option that the software's native solution, without the hassle of double data entry, through its auto-sync payment interface, Lightning Payments™. TouchSuite is headquartered in Boca Raton, FL. For additional information about TouchSuite, its company and services, please visit http://www.touchsuite.com.