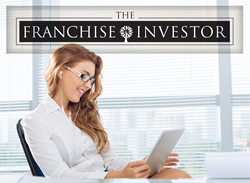 We wanted to develop a resource for these investors to make the most of their available opportunities, while learning from the best and brightest in the industry.
MORRISTOWN, N.J. (PRWEB) March 03, 2015
With the instability and uncertainty stemming from the financial crisis of 2008 still fresh in everyone's minds, a new breed of franchise investors are beginning to take up a significant part of the marketplace. Many new entrepreneurs are looking to diversify income streams and build a business while they are still employed. This "new-age" semi-absentee investor wants to enjoy the safety net of a steady paycheck and associated benefits of a full-time job, while having the freedom to manage a fledgling franchise. St. Jacques Marketing, an integrated franchise brand marketing firm headquartered in Morristown, New Jersey, just announced the launch of The Franchise Investor, an online forum and resource for semi-absentee investors in the franchise industry.
"We've spent more than 20 years working with a diverse group of franchise brands and entrepreneurs, and it has become clear that many business men and women who are looking to invest in a franchise still want to keep their day jobs," said Philip St. Jacques, founder of The Franchise Investor and president of St. Jacques Marketing. "We wanted to develop a resource for these investors to make the most of their available opportunities, while learning from the best and brightest in the industry."
The Franchise Investor was developed as a forum for entrepreneurs looking to make investments in the franchise space that can be managed while remaining fully employed elsewhere. This model allows for an individual to keep the security of a full-time job, or if they are already an existing business owner, diversify and open another business. For many semi-absentee investors, the commitment is only part-time but results in a steady paycheck.
Users will be able to explore franchise categories that are set up for semi-absentee investments, access the latest relevant franchise news, and seek advice for investing. The site will feature viewpoints and experiences from franchise industry leaders, and provide insight into semi-absentee best practices.
"Semi-absentee investors are a unique category in the franchise space – not for every entrepreneur and not for every concept," said St. Jacques. "We want these entrepreneurs to see that it is possible to build new and credible income streams while you continue advancing in your current career. This resource is an opportunity for investors to not only access objective advice, but to also learn from industry peers, and make the most informed investment decisions."
For more information on The Franchise Investor, or to inquire about contributing to an upcoming installment, visit http://www.thefranchiseinvestor.com.
About The Franchise Investor
The Franchise Investor is a source of news and information designed to give guidance and answer questions for a specific investor group…the passive income, semi-absentee investor. We source news and information from industry and business experts to bring an objective viewpoint to people seeking business ownership in this unique model. For more information, visit http://www.thefranchiseinvestor.com.
About St. Jacques Marketing
St. Jacques Marketing is a new breed of integrated marketing strategy, media, technology and engagement marketing firm with an intense focus on solving complex, deep rooted franchise brand challenges in national, regional and scaling local consumer marketing. The St. Jacques brand of marketing leadership helps guide brands through the opportunities and challenges in their next stages of growth. Clients seek them out for the leadership they provide. Understanding the franchisor/franchisee construct and the challenges and opportunities they present goes a long way to developing strategies that will be adopted system wide. The St. Jacques team is comprised of highly skilled marketing, media and creative professional that all understand the franchise organizational construct and can add additional knowledge, expertise and capacity to franchise marketing organizations. They develop marketing and media strategies at the brand level and have the capability and the will to engage daily with franchisees to help them implement those strategies in their markets. For more information, call 1-800-708-9467 or visit http://www.stjacques.com.
For additional information, contact:
Heather Ripley
Ripley PR
865-977-1973
hripley (at) ripleypr (dot) com