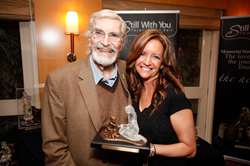 "Thank you for what you're sharing." Academy Award Winner, Martin Landau
Hollywood, CA & Provo, UT (PRWEB) March 04, 2015
Still With You, Inc. introduced its distinctive art to 2015 Academy Award nominees and filmmakers over Oscar® weekend in Hollywood at the L'Ermitage Beverly Hills.
Artist Kristen Lamb's designs received praise from multiple celebrities. Keith Stanfield (Selma, Short Term 12) commented, "These statues are beautiful; my friend's dog just got hit by a car and this will be a cool thing for him." In an email, Michael Pena (Teens Wanna Know) exclaimed, "I absolutely love your guys' work!"
One of the most touching moments of the day occurred between Kristen Lamb and Academy Award Winner, Martin Landau, who acknowledged that it must have been difficult to lose someone. He went on to say, "Thank you for what you're sharing." The exchange left Lamb in tears.
Emotional and moving, the art was a distinct addition to the event. "We haven't seen anything like this at the event before," commented one event staffer.
Still With You began as a form of artistic "therapy" for Kristen. Following her husband Rob's tragic death in a plane crash, she turned her talents to designing sculptures depicting undying love. She never expected to share the designs of her grief at the 2015 GBK Academy Awards Celebrity fundraiser and Gift Lounge.
The widowed mother of five originally intended to soothe her grief by designing statues representing her husband's undying love and connection to her following his death. Soon, people began requesting she craft figures representing their loss. Kristen's first creation, Eternal Embrace, represents her eternal love relationship with her late husband Rob. As Kristen realized her art could help others, she founded Still With You.
About Kristen Lamb and Still With You statues:
Kristen Lamb is a true Renaissance woman and mom of five children. Among her accomplishments, Kristen organized a charitable 501c-3 for abused women called The ChainBreaker Foundation, and authored a book titled Instinctive Eating.
Kristen won several awards in her work as an interior designer and served on numerous charity boards, including the Children's Justice Center where she was master of ceremonies with her husband for three years at their annual fundraiser.
Following her husband Rob's tragic death, Kristen turned her artistic talents to designing sculptures depicting undying love. Continuing her passion for helping others, Kristen strives to comfort the bereaved through her emotional creations.
Still With You statues represent the many relationships – and losses – of our lives:

Loss of a Child or Infant
Loss of a Spouse
Loss of a Parent
Loss of a Pet
The Comfort of the Savior
Line of Duty Military/Police/Fire
Over thirty figures are currently available with more in the sculpting phase. Each figure is hand crafted in high quality cold-cast bronze and acrylic. "Response to the figures often consists of tears and a story, we've all lost someone," shared Kristen. Her first creation, Eternal Embrace, represents the undying love between she and her late husband Rob.
The full line of statues may be found on StillWithYou.com.
Media Contacts:
Kim Power Stilson
Power Strategies, Inc.
801.358.3649
Kristen(at)StillWithYou(dot)com
###