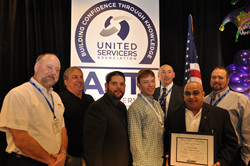 In receiving this award three years in a row, Dacor has shown a consistent commitment to outstanding customer satisfaction - Paul Mac Donald, Executive Director of the United Servicers Association
LOS ANGELES, CA (PRWEB) March 03, 2015
Dacor®, manufacturer of ultra-premium kitchen appliances, announces its 2015 United Servicers Association Partnership Award for its commitment to a high-quality, after purchase service experience. Receiving this award is a testament to Dacor's engagement to providing exceptional service training and technical support.
"In receiving this award three years in a row, Dacor has shown a consistent commitment to outstanding customer satisfaction," says Paul Mac Donald, Executive Director of the United Servicers Association. "Dacor's high standards of service truly reflects the mission of the United Servicers Association, to help members achieve strong business success through exceptional products and after-sales service."
"Winning the United Servicers Association Partnership Award signifies Dacor's service excellence," notes Dacor CEO Chuck Huebner. "This recognition is a reflection of our pledge to providing home chefs with a world-class product and factory trained service technicians."
Dacor received the Partnership Award for its participation in the association's Institute of Service Training events and for its ongoing contributions. Dacor has received this award each consecutive year since its introduction in 2013, which underscores the luxury brand's responsibility to the overall satisfaction of its clients.
"Our goal is to design and manufacture products that will remain relevant and useful to the home chef over the next half-century," said Dacor President Steve Joseph. "With the addition of the Discovery iQ products we only see an increased need to provide training opportunities to our service partners."
Media Notes:
Dacor's innovative appliances have been recognized with many prestigious awards and accolades including:

2015 United Servicers Association Partnership Award
Tested and recommended by Le Cordon Bleu
Digital Trends Best of Consumer Electronics Show (CES) Home Award
Kitchen & Bath Industry Show (KBIS) Best in Show
Kitchen & Bath Industry Show (KBIS) Best of Kitchen – Gold
Kitchen + Bath Business (K+BB) Product Innovator Award
2013 and 2014 GOOD DESIGN™ Awards
CES Envisioneering Innovation & Design Award Honorees
Better Homes & Gardens Kitchen + Bath Ideas 30 Most Innovative Products Award
For more information about Dacor and its products, visit dacor.com.
About Dacor
Celebrating its 50th anniversary, Dacor is a manufacturer of ultra-premium kitchen appliances. Designed and built in California, Dacor's cooking appliances integrate function and technology to create high-performing, intuitive products that reflect the lifestyle and needs of the passionate cook. Since 1965, Dacor has been responsible for many of the innovations that have improved the way people cook in the modern kitchen. Dacor is family-owned and embraces the legacy, heritage and expertise of a third generation to lead the company into a new age of cooking innovation. Dacor is also the first and only ultra-premium appliance brand to be tested and recommended by the Master Chefs of Le Cordon Bleu. Le Cordon Bleu is considered the world's most respected culinary arts and hospitality educator.