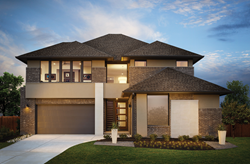 What we're doing is giving homebuyers a modern home that would normally only be available to them in the custom home market And we're giving it to them at a price they can afford.
Dallas, Texas (PRWEB) March 03, 2015
MainVue Homes is bringing a new style of home and a new way of homebuilding to the Dallas market.
The builder, known for its modern aesthetic and feature-rich home designs, is debuting in the Dallas market with its first three new home communities, based around a model home village located at Phillips Creek Ranch in Frisco and individual display homes at Fairwater in Frisco and Village Park in McKinney.
What sets MainVue Homes apart is its commitment to providing homebuyers with designs that offer a look and feel that buyers haven't been able to find before in new home communities around Dallas.
"What we're doing is giving homebuyers a modern home that would normally only be available to them in the custom home market," said Peter Hayes, CEO and Founder of MainVue Homes. "And we're giving it to them at a price they can afford. We've done this by quite literally scouring the world to get the best materials and products to put it all together."
That means homes that include high-end fixtures and standard features that normally would only be available as options. Those features are on display at Phillips Creek Ranch, where the builder has assembled a collection of floor plans that makes a statement in many ways.
"Our motto is the difference is everywhere and we truly mean that," said Cheryl Turner, president of MainVue's Dallas division. "It goes beyond just simply building a modern home design. We're committed to delivering that home with the professionalism, attention to detail and features that today's homebuyer demands."
Desirable locations and quality school districts are also attractive to homebuyers and MainVue doesn't disappoint on either count. The company's McKinney community, Village Park, is located within the Allen Independent School District (ISD) while Phillips Creek Ranch is located in the Frisco ISD and Fairwater claims the Lewisville ISD. All three locations offer convenient access to some of Dallas' most important employment centers.
MainVue's commitment to its buyers is also on full display through the company's comprehensive floor plan collection, which not only offers a diverse array of floor plans but also a unique way of selecting just the right one.
"One of the things that I find so appealing about our homes is that each floor plan actually has four iterations," Turner said. "Each plan family has distinctive architectural details that flow through every plan in the series, allowing a buyer to capture the same 'feel' as our largest plans, while allowing for a range of square footage, room counts and configurations."
The 13 floor plans offered throughout Dallas provide 3,100 to 4,400 square feet of living space, spread throughout a modern home style that's almost sublime in its design and artful in its build. Every feature is given proper attention, no detail is considered too small. Courses of brick are expertly placed, interior walls are perfectly fit and no accent or finish is left to chance.
"It takes a skilled hand to build these homes and the attention we've put into them we feel will reward our homebuyers for years to come," Turner said. "These are truly remarkable homes."
According to Hayes, it's also about providing a home that buyers can see themselves living in without hesitation.
"Ultimately, it's about living in the home and enjoying the home," Hayes said. "That's ultimately what we're trying to accomplish. The design is just the beginning. Creating a home that provides a modern look while still making you feel at home is our ultimate goal."
To learn more about MainVue Homes or to join the homebuilder's VIP list, please visit http://www.mainvuehomes.com/texas.
About MainVue Homes
Proven by its practices and dynamic by design. This trusted combination is just part of the reason MainVue Homes is a worldwide leader in premiere residential design and construction. As part of the internationally respected Henley Properties Group, MainVue Homes is a proud partner of the Sumitomo Forestry Group, a venerable corporation with its own rich 320-year heritage. This global relationship now builds 13,000 homes a year in Australia, Japan and the United States. Using this international buying power, MainVue gives its customers access to the latest home designs at the best value. For more information, please visit http://www.mainvuehomes.com.