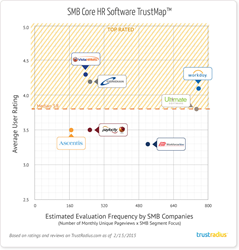 Evaluating Core HR products is always a challenge, given their number and variety. TrustRadius has created an objective methodology based on reviews from real users and satisfaction ratings
Austin (PRWEB) March 04, 2015
TrustRadius, the leading community for professionals to share candid insights about business software, today announced the release of its TrustMaps™ for Core HR software, which rank products based on user satisfaction ratings and evaluation frequency among SMBs and enterprises.
Unveiled in the company's first Buyer's Guide to Core HR Software, the TrustMaps™ help software buyers quickly locate the solutions most highly rated and widely adopted by companies of a similar size, and therefore most closely aligned to their needs.
Each TrustMap™ depicts Core HR products on two dimensions – "likelihood to recommend" ratings by users and evaluation frequency on TrustRadius, as measured by unique page views.
All ratings come from authenticated users of Core HR tools who reviewed or rated the product on TrustRadius.com. The guide also includes common capabilities and key factors to consider when selecting Core HR software.
"The HR software landscape has been changing rapidly as Core HR vendors add capabilities from adjacent categories like talent management and recruiting to better serve customers who seek to hire, develop, engage, measure and retain their people more holistically," said Vinay Bhagat, CEO of TrustRadius. "Our Core HR TrustMaps™ provide HR professionals with a pragmatic approach to identify the best-fit solutions based on market segment, user satisfaction and evaluation frequency on TrustRadius."
Matthew Peterson, Executive Director, Leading Edge HR Network agrees: "Evaluating Core HR products is always a challenge, given their number and variety. The Buyer's Guide to Core HR Software is a great resource for buyers. TrustRadius has created an objective methodology based on reviews from real users and satisfaction ratings. The guide also lets HR professionals review the data directly to make their own determinations on which products are a good fit."
Best Small & Medium-size (less than 1,000 employees) Core HR Software
Based on average user ratings and evaluation frequency, the Top Rated products for Small & Mid-size companies are:

Workday
Ultimate Software UltiPro
Ceridian Dayforce HCM
Vista HRMS
The guide includes a detailed profile of each of these Top Rated products and 6 others, including strengths and areas for improvement, as cited in user reviews on TrustRadius.
Best Enterprise (Greater than 1,000) Core HR Software
Based on average user ratings and evaluation frequency, the Top Rated products for Enterprises are:
Workday
Oracle PeopleSoft
Ceridian Dayforce HCM
Vibe HCM
The Buyer's Guide to Core HR Software is free and available here: http://www.trustradius.com/guides/hr
About TrustRadius
TrustRadius is the leading site for business software users to share real-world insights through in-depth reviews and networking. We help users make better product selection, implementation and usage decisions. Every reviewer is authenticated and every review vetted before publication. Unlike simple rating sites, TrustRadius reviews are structured and substantive, averaging more than 400 words each. Reviewers can also update their reviews to keep them current. Founded by successful entrepreneurs and backed by the Mayfield Fund, TrustRadius is bringing transparency and efficiency to the $3.7 trillion business technology market
To learn more, visit http://www.trustradius.com.