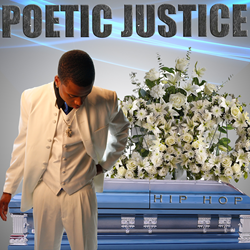 New York City, NY (PRWEB) March 03, 2015
Coast 2 Coast Mixtapes announce the release of the "Poetic Justice EP" mixtape by Blue-Shakespeare. The 6 track project is currently available for purchase on any online merchant site, or on http://www.blue-shakespeare.com.
Blue-Shakespeare is a young rap artist born on the island of Haiti and raised in Spring Valley, NY. He got his name from the color blue, which stands for sadness and depth, combined with one of the greatest pro-font poets of all time, Shakespeare. Performing at live events since the age of 21, he is well regarded for his presence and ability to deliver powerful messages through his art. This debut album released by Blue sets the bar high for other independent artists and is considered a work of art. Diving into a different realm, Blue combines witty lyrics with diverse analogies throughout the entire album.
The debut EP by Blue-Shakespeare features performances by local talent such as Precice, Rob Mitchell, Stan Michael, and Jennifer "Jenn Rock" Marzec. This entire project is based on the theory that hip-hop is dead, and each song relates to this theme in one way or another. The tracks together tell a story, starting with "Poetic" where a man kills a woman and runs off into the night then later she is resurrected. In "Aroma", Blue-Shakespeare discusses how he is the profit who will bring hip-hop back to life. Using mostly women as a symbol to depict the essence of hip-hop, Blue uses his witty punchlines and a poetic touch to turn this story into a masterpiece. Blue-Shakespeare is also holding a competition for listeners who can decipher the hidden messages in his new EP, the only requirement is to purchase the project through one of the media merchants and then submit your answers on http://www.blue-shakespeare.com.
From club-bangers to sentimental tunes, this album has a little bit of everything. Bringing back the original rhyme scheme of poetry and morphing it with a unique style and sensibility, Blue also tributes the "greats" for his inspiration. Be sure to check out the competition on Blue's website and listen to his latest music by following him on Twitter at @3lueShakespeare.
About Coast 2 Coast Mixtapes
Coast 2 Coast Mixtapes are the most widely distributed mixtapes in the world, with over 100 million downloads/plays generated by over 200 volumes officially hosted by major artists. Coast 2 Coast has a solid reach in the new music industry with a digital magazine, DJ coalition, industry tips blog, yearly convention, and more. Coast 2 Coast Mixtapes represents a unique opportunity for artists of all urban genres, from major to indie. For more information, visit http://www.coast2coastmixtapes.com.