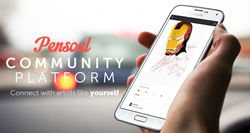 We wanted to give our Pensoul users greater flexibility in creating content and sharing their creations with the world
Los Angeles, California (PRWEB) March 03, 2015
FXGear has officially unveiled the Pensoul Community platform service to create a boundless playground for sketch lovers, artists, creators, hobbyists and more. The new Community platform is designed to give Pensoul app users more than just a limitless sketchbook, though. It combines social features with industry-leading functionality, to create a unique sketch solution.
The new social features include uploading, downloading and sharing sketches, notes and other contents in the app through a dedicated sharing community platform, as well as through other social sites, such as Facebook and Instagram.
Unlike other image content sharing platforms and digital portfolio sites, Pensoul features a unique, powerful time-slider feature that allows users to see the entire creation process of other members' artwork.
"We wanted to give our Pensoul users greater flexibility in creating content and sharing their creations with the world, ultimately contributing to sharing value and culture along with their creativity and imagination," said Chang Hwan Lee, CEO of FXGear. "We hope Pensoul's core features, including its powerful vector engine and the time-slider, can be utilized for many collaborative projects through our social features and the Community platform service."
The Pensoul app allows artists and enthusiasts to use their mobile devices to create vector sketches, which can be magnified more than 1 million times without losing the original quality. Those creations can now be shared directly via the Pensoul Community platform, and through other sites, including Facebook and via email. Creators' work history is stored with their copyright, so intellectual property rights can be reserved and users can determine the usage rights they prefer for each creation.
Thanks to the app's powerful vector graphics engine, the content available on the Pensoul Community Platform can be printed out on a large scale and even in 3D. The company expects this feature will generate further demand for downloading and buying member uploaded artwork.
"This is about sharing the creative process, not just the completed work. We see great potential for collaborative projects such as a world map, created entirely by community members from around the globe, and endless possibilities in the field of education," Lee explained.
Referred to by many as the boundless sketchbook, Pensoul plans to expand its Community Platform into the world's first marketplace for digital art. The company has been developing ecommerce and IP security features that will enable users to buy and sell their own artwork or educational materials. Users will have the option to lock or unlock the time-slider view to allow others to see their creation process.
FXGear will also be announcing a global contest to celebrate the launch of the new Pensoul Community & Ecommerce Platform in the months to come. The company has also been running various tablet giveaways via its social network, encouraging Pensoul fans and followers to inspire and be inspired on the boundless playground.
For more information about the Pensoul app or the Pensoul Community platform, visit http://www.Pensoul.co or http://www.FXGear.net.
About FXGear: Founded in 2004, FXGear continues to develop cutting-edge computer graphics technologies. Originally established as a computer graphics software developer, it has expanded into developing virtual human technologies, mobile graphics engines, virtual reality technologies and more. The company is at the core of the computer graphics field and has acquired more than 27 patents in Korea, USA, Taiwan and Japan. FXGear technology has been used in major motion pictures and university courses, as well as for personal and business settings. For more information, visit http://www.FXGear.net.