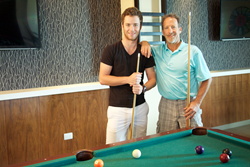 Miami, FL (PRWEB) March 03, 2015
Generations Riviera Maya, by Karisma is setting the stage as the place to be for luxury Gourmet Inclusive® celebrations.
This week Jeremy Sumpter, best known for starring in the Peter Pan movie and from the hit television show Friday Night Lights, turned a belated birthday celebration into an all out guys weekend with his dad, Gourmet Inclusive® Style. Jeremy and his father spent their time catching up over some drinks at Sling Bar as well as kicking back in the game room with a few rounds of pool. A gourmet dinner at The Wine Kitchen restaurant with a personalized birthday cake and candles was the perfect way to end the trip.
At Generations Riviera Maya, by Karisma the celebrities aren't the only ones who get the best perks! CMT is offering fans a chance to get on the A-list and join The Swon Brothers at Generations Riviera Maya to live it up star-style in the all suite, all butler, all gourmet oceanfront resort. The Swon Brothers are celebrating many great successes including their first Academy of Country Music nomination, the release of their new music video 'Pray for You,' and Swon Brother Zach's 30th birthday.
Fans can enter to win a 5-night Gourmet Inclusive® trip with included VIP airport transfers and two meet & greet passes to The Swon Brothers live show! Plus, if you have a birthday in April, upgrade your trip with one of our VIP birthday packages for even more exclusive perks for your celebration vacation. Visit http://www.celebrationsatgenerations.com for more information on how to enter and book your Celebration at Generations Riviera Maya with The Swon Brothers!
About Karisma Hotels & Resorts:
Karisma Hotels & Resorts, an award-winning luxury hotel collection which owns and manages properties in Latin America, the Caribbean and Europe, comprises an impressive portfolio including El Dorado Spa Resorts & Hotels, Azul Hotels & Villas by Karisma, Generations Resorts by Karisma, Allure Hotels by Karisma and Karisma Hotels Adriatic. Properties have been honored with the industry's top accolades including Conde Nast Traveler's "Top 100 Hotels in the World," Conde Nast Traveler's "Top 30 Hotels in Cancun," TripAdvisor® Traveler's Choice "Best Hotels for Romance," and AAA's "Four Diamond Award." Karisma has received worldwide recognition for its creative approach to hospitality management and product innovations. For reservations and a full list of Karisma properties, please visit http://www.karismahotels.com.
###