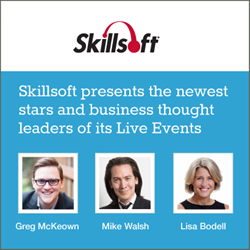 The business experts featured in the Live Events provide leaders inspiration that drives innovation and the right skills for executing and achieving their business goals.
NASHUA, N.H. (PRWEB) March 03, 2015
Skillsoft, a global leader in learning and talent management, today announced the schedule for its upcoming Live Events, a series of live, interactive webcast events featuring cutting-edge thought leaders who will share insights on business strategies and leadership to drive organizational performance. Available to customers of the Skillsoft® Leadership Channel® and Skillsoft® Leadership Advantage™ , Live Events serve as internal leadership conferences and offer presentations by best-selling authors, world-class business scholars and top executives at a fraction of the cost of hiring professional speakers.
This year's Live Events schedule includes a live webcast from 2015 Global Skillsoft Perspectives, featuring keynote speaker and world-renowned thought leader Mike Walsh. The full Live Events schedule includes:

March 3 at 12 p.m. EST (webcast from San Francisco)
Greg McKeown, author of New York Times and Wall Street Journal best-seller Essentialism: The Disciplined Pursuit of Less, will offer a way of thinking to discern what is essential, eliminating what is not, and removing obstacles in order to make execution as effortless as possible.
May 19 at 11 a.m. EDT (webcast from Orlando, Fla.)
In Designing Your Business for the 21st Century, futurist, author and CEO of Tomorrow Mike Walsh will share what it takes to recruit, retain and motivate tomorrow's employees by transforming employee engagement and using enterprise social networks to solve real business problems.
June 9 at 12 p.m. EDT (webcast from New York City)
Award-winning keynote speaker and best-selling author of Kill the Company, Lisa Bodell will discuss how the very structures put in place to help organizations grow are now holding them back. In End the Status Quo, Start an Innovation Revolution, Bodell will share how teams can change the way they work and reignite critical aptitudes such as curiosity, inquiry and creative problem-solving.
"The latest lineup of Skillsoft Live Events underscores our dedication to delivering diverse, impactful learning opportunities that will drive organizational excellence through leadership development," said Shawn Hunter, executive producer and vice president, Skillsoft's Leadership Channel. "The business experts featured in the Live Events provide leaders inspiration that drives innovation and the right skills for executing and achieving their business goals."
Live Events are archived and will be available after the initial webcast. For more information about subscribing to the Leadership Channel, please visit http://www.skillsoft.com/business-solutions/leadership-development.asp. Participants are encouraged to tweet thoughts and questions during each Live Event using the hashtag #SkillsoftLive.
Tweet this: New @Skillsoft Live Events drive leadership development w/ presentations from top biz thought leaders. http://bit.ly/1vW0OsG #SkillsoftLive
About Skillsoft
Skillsoft is a pioneer in the fields of learning and talent management with a long history of innovation. Skillsoft provides cloud-based learning solutions for its customers worldwide, ranging from global enterprises, government, and education to mid-sized and small businesses. Skillsoft's customer support teams draw on a wealth of in-house experience, flexible delivery platforms and a comprehensive learning e-library to develop off-the-shelf and custom learning programs tailored to cost-effectively meet customer needs. Skillsoft's courses, books and videos have been developed by industry leading learning experts to ensure that they maximize business skills, performance, and talent development.
Skillsoft currently serves over 6,000 customers and more than 19,000,000 learners around the world. Skillsoft is on the web at http://www.Skillsoft.com.
Skillsoft, the Skillsoft logo, Skillport, SkillChoice, Books24x7, and learning-centric Talent Expansion are a partial listing of the trademarks or registered trademarks of Skillsoft Ireland Limited in the United States and certain other countries. All other trademarks are the property of their respective owners.