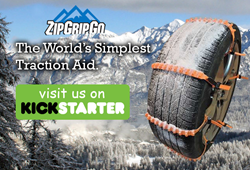 I'm amazed at the overwhelming response and support we've received since launching our crowdfunding campaign," said Mike Curry, ZipGripGo inventor
Hackensack, N.J., (PRWEB) March 03, 2015
Zip Grip Go, LLC, proudly announces 100% funding of its innovative emergency traction aid through crowdfunding site, Kickstarter. This achievement allows Zip Grip Go to bring its affordable product of the same name to the general public, enabling people worldwide to easily remove their vehicles from snow, ice or mud.
Zip Grip Go's campaign, which was launched just over two weeks ago, quickly garnered attention and drew rave reviews across the company's social media sites. People were drawn to the product's compact size, ease of use and proven abilities to work in an emergency. One fan, David Kos of Colorado, said, "This would be a great product to have on my vehicle and the company truck without four-wheel drive. I know I have been stuck in the mud and snow and wished I had chains or something to get me out. This is what I needed… small, convenient and works."
Using the same basic technology that makes zip ties so convenient, the patented ZipGripGo emergency traction aid kit contains 12 robust straps made of a proprietary nylon compound designed to withstand the most extreme temperatures. To free a stuck car, an individual simply loops several straps through each of the vehicle's drive wheels, wraps them around the surface of the tire and then zips them tight by hand. With ZipGripGo in place, the tire's tread is temporarily enhanced with stout, double-tiered nylon cleats that supply ample traction for most any mud, ice or snow situation drivers face.
Drivers can have peace of mind knowing ZipGripGo is in their vehicle, ready for use at a moment's notice. Its design allows ZipGripGo to be easily stored in any trunk or cargo area, but is strong enough to assist vehicles of any size, whether a car, truck or SUV. Once needed, it takes less than five minutes to secure ZipGripGo straps in place, eliminating the cost and wait of a traditional tow. After the vehicle is safely unstuck, ZipGripGo's straps are removed in seconds with the assistance of any cutting tool, allowing the driver to be quickly back on their way.
"I'm amazed at the overwhelming response and support we've received since launching our crowdfunding campaign," said Mike Curry, ZipGripGo inventor. "When I designed this product, I did it to help the average person, like my own family members, to quickly and safely escape the elements without fear."
ZipGripGo has received multiple innovation and invention awards since its development, including the coveted Popular Mechanics Editor's Choice award. The product will reach the end of its Kickstarter campaign on March 14th, at which time the company prepares for market. Based on consumer response, the company expects to exceed its funding goal by 50% or more by that date.
Interested parties can learn more about ZipGripGo on its website at http://www.ZipGripGo.com or on Kickstarter @ https://www.kickstarter.com/projects/872387109/zipgripgo-alternative-traction-aid-for-snow-and-mu
# # #
Contact:
Barry Schwartz
Phone: 855.947.4477
Email: barry@ZipGripGo.com