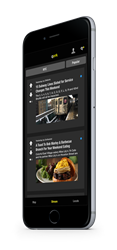 "I'm confident that working with Qork will bring our original journalism to more mobile readers." - Scott Brodbeck, Local News Now
Livingston, NJ (PRWEB) March 04, 2015
In any community there are dedicated bloggers creating invaluable local content, but readers looking for this content face a fractured landscape of sites to navigate, few of which have a mobile solution. Today that changes: hyperlocal startup Qork is announcing that it has partnered with over 40 local blogs to bring their content on the Qork platform, creating a single place where users can go to discover their community's diverse local content in a sleek mobile interface.
The new partnerships span blogs from several major American cities, including New York, San Francisco, DC and Austin, already making Qork the best platform for discovering local content in these cities.
In addition to pulling content from partner sites, Qork allows users to upload their own content, or "qorks," as well as subscribe to their favorite news sources with the "follow" feature. Users can explore the content via a map or a feed, see a list of the most influential users in their area, and themselves influence which local stories go viral by upvoting or downvoting qorks.
"Qork is all about creating a dedicated platform for local content," says Ben Goldman, co-founder of Qork. "Our local partners program allows us to instantly connect users to their local area's best content in a single place. Individually many of these blogs are too niche to attract a large audience, but together they can create a 360 degree picture of a city that has never been seen before."
Partners include a wide variety of unique local blogs, including Muni Diairies, Mission Local, I Quant NY, Gotham Gazette, Sound of Boston, The Austinot, the official San Francisco Ballet Blog, Brightest Young Things, Hill Now, and more.
"We want to drive community discussions and reach the broadest possible local audience," says Qork partner and hyperlocal pioneer Scott Brodbeck, founder of Local News Now, a network of four DC-area blogs. "I'm confident that working with Qork will bring our original journalism to more mobile readers."
Following on the success of the Qork partners program, the Qork team plans to expand its partner outreach and is currently accepting new partners through its website at http://www.qork.it.
Qork launched officially on January 15, 2015, and has since been featured in Inc Magazine, The Next Web, WIRED, Geektime, Street Fight, and has been called a "Can't-Miss App" by Mashable.
For more info, please contact Ben Goldman at ben(at)qork(dot)it or +1-347-824-2168 or visit http://www.qork.it