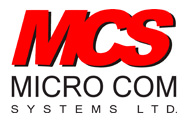 Some of MCS's partners include Fujitsu, Canon, Kofax and Abbyy
Vancouver, BC (PRWEB) March 25, 2015
Micro Com Systems has recently announced that the company can now help clients develop in-house document scanning facilities and other document and image capturing capabilities. While many businesses these days intend to outsource their document and image capturing responsibilities, there are still a few who would like to develop this capability in-house.
MCS has managed to create lasting business relationships with companies who are giants in their respective industries. Some of MCS's partners include Fujitsu, Canon, Kofax and Abbyy, providing MCS with high quality hardware, such as Fujitsu and Canon scanners, and top notch software such as Abbyy Recognition Server and Kofax Capture.
Representing such reliable vendors, it can be safely said that Micro Com Systems provides top-notch document capture hardware to its clients in order to enhance their experience of document imaging. It helps them capture paper files of any size or description, including microfilm or fiche to digital images. While the company performs these tasks as a service bureau on behalf of hundreds of clients across every market sector, there are many clients that demand in-house document scanning facilities due to various reasons, such as confidentiality or sensitivity of their data.
About the Company
Micro Com Systems (MCS) Ltd is a company evolved from the maturation and combination of several companies from the mid 1970's. With decades of experience in all forms of document and image capture, MCS processes over a million pages a month on behalf of their customers, in their facility or at a client site. Apart from microfilm, microfiche and aperture card scanning through to large format scanning, MCS designs, sells and implements scan capture systems, and represents capture and data extraction products, as well as, small and medium business document management software. There are nearly 40 employees at the company's Vancouver location while it provides scanning services for clients in British Columbia and the Western provinces.
For more information, log on to http://www.microcomsys.com/ or call 604.872.6771.