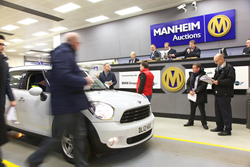 One of the best things about the BMW Group's 1,000 Vehicle Sale at Manheim Colchester is the huge amount of choice it gives buyers
(PRWEB UK) 5 March 2015
More than 1,000 used BMWs and MINIs went under the hammer at Europe's only four-lane auction centre at Manheim Colchester, on Saturday 7 February 2015. Every single car was eventually sold with a total value of £14,692,800.
This makes it the biggest ever sale for a single car manufacturer in the UK.
Several hundred professional buyers and hundreds more car fanatics turned up from all over the UK, while global buyers joined the action via Simulcast.
Popular lots included a 1 Series M Coupe which sold for £38,000, £12,000 above its original asking price. Convertible cars were also hot property at the event and 176 were sold in total, many for more than the original asking price.
Many of the used cars were classed as 'nearly new' or 'ex-fleet' and were in excellent condition.
Buyers were also complimentary about the venue and the products on offer, praising the four-lane system at Manheim Auctions and the wealth of quality stock on offer.
"One of the best things about the BMW Group's 1,000 Vehicle Sale at Manheim Colchester is the huge amount of choice it gives buyers," said Peter Waddell – CEO of Big Motoring World Group, who smashed his own record buying 287 cars and spending £4m on the day.
Chris Parry, national auction manager for BMW Group UK praised the venue and the sales teams, calling it an "exceptional sale".