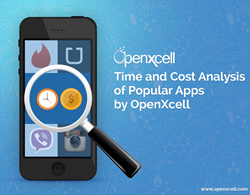 OpenXcell's research model has been purposely designed to answer a plethora of questions concerning to the cost and timeline required for developing an app.
Hicksville, NY (PRWEB) March 04, 2015
OpenXcell Technolabs, a leading mobile app development and app marketing company has come forth with an elaborative research model to scrutinize the design and development costs and time of popular apps. The researches conducted on popular apps like Uber, Tinder, Viber and Instagram are proving beneficial to potential entrepreneurs who are eager to better understand their own app development processes considering two important factors, viz, time and cost. Indeed, this research model is a result of OpenXcell's comprehensive industry experience gained over years.
The researches, conducted on Uber, Viber,Tinder and Instagram, covers a wide variety of aspects. To start off with, the analysis provides a complete walk through of all the features that combinedly create an affluent app. These features have been further scrutinized to understand the nature of the application. The analysis then guides you through an array of challenges and solutions of critical functionalities of the application. These solutions depict the developers' point of view on how meticulously they can deal with these challenges and implement robust solutions at OpenXcell. Having said that, the information regarding the given approximate timeline and cost for developing these respective apps are based on certain critical features.
"Apart from the Quality factor, the cost of design & development and the timeline for completing the development process of any given app are two major concerns that app entrepreneurs constantly look forward to." Says Jayneel Patel, the CEO of OpenXcell. He further states, "OpenXcell's research model has been purposely designed to answer a plethora of questions concerning to the cost and timeline required for developing an app. We will be considering well-performing and robust apps that have set a benchmark for the competitor apps in the industry."
Given that the approximate price and timeline for development of an app are the highlights of the research, the timeline aspect is focused on features like, UI Design, UI integration including Tinder, Facebook Login, Like/Dislike displayed profile, Notification, Image filter and many more features (These features have been picked from research conducted on Tinder app.) The timeline mentions the number of days required for developing the respective feature for iOS and Android platform. Whereas, the Pricing aspect provides information on developing app for iOS and android platform respectively.
OpenXcell Technolabs, found in the year 2008, has designed and developed more than 500 apps till date. This client-centric app development company has been providing best value for investments to the clients in internet technologies and mobile marketing, mobile application development and high-end multi-media applications. Apart from providing excellent mobile app development services, web app development services, and app marketing services, the company has gained accolades for adhering to strict quality control while delivering satisfactory user experience. The troop of industry best developers makes OpenXcell the topmost app development service provider in the market.
About OpenXcell Technolabs
OpenXcell Technolabs is a renowned mobile app development company. The company provides cost-effective app development and app marketing solutions for iOS and android. OpenXcell has its headquarters located in the US with its app development centre located in India.
###
Contact information
OpenXcell Technolabs
Phone: +91-999-822-2929
Email: http://www.OpenXcell.com