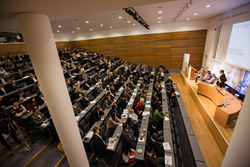 Now in its 14th year, Saïd Business School's Silicon Valley Comes to Oxford (SVCO) forum is focused on creating and sharing actionable insight on how to start, scale, and run innovative technology companies
Oxford, United Kingdom (PRWEB UK) 3 March 2015
Augmented devices are beginning to revolutionise our lives; enhancing our senses, improving our productivity and even changing the face of medical technology and healthcare. Expert practitioners from both Silicon Valley and the Oxford research ecosystem will explore the advances in this technology and how it aids and supports human capability. But discussion will also centre on the ethical dimensions of future technologies, the implications for economic growth and the impacts on labour markets and urban development, as well as questioning the 'big picture' consequences for humanity.
Speakers on this theme include:

Lionel Tarassenko, Professorial Fellow in Electrical and Electronic Engineering, The Institute of Biomedical Engineering, University of Oxford
Hagan Bayley, Professor of Chemical Biology, Dept. of Chemistry, University of Oxford
Thomas Charlberg, Co-founder and CEO, Avalanche Biotech
Carl Frey, James Martin Fellow, Oxford Martin Programme on the Impacts of Future Technology, University of Oxford
Michael Osborne, Associate Professor in Machine Learning, University of Oxford
Nick Bostrom, Professor Faculty of Philosophy & Oxford Martin School, University of Oxford
Dave Coplin, Chief Envisioning Officer, Microsoft UK
Sonny Vu, Co-founder and CEO, Misfit
Filip Maertens, Founder and CSO, Argus Labs
Elaine Warburton, Co-founder and CEO, QuantuMDx
In other themed tracks speakers will discuss 'Innovation in Technology' through a series of masterclasses, plenary sessions, 20:20 high impact talks, fringe events and a lively Oxford Union debate. The sessions will explore the opportunities and challenges of innovation in the rapidly changing field of technology with a focus on the importance and ways of creating powerful networks, and how to monetise innovation.
Speakers in these sessions include:

Phil Libin, CEO, Evernote
Michael Fertik, Founder & CEO Reputation.com
Rich Stromback, Chairman and CEO, Stromback Ventures
Torsten Reil, Co-founder, NaturalMotion
Mike Malone, Journalist and Associate Fellow, Saïd Business School
Joe DiNucci, Founding Partner, Surviving Success
Tom Hayes, CEO, Mepedia
Christian Lanng, Co-founder and CEO, Tradeshift
Husayn Kassai, Co-founder and CEO, Onfido
Jen Hyatt, Founder and CEO, Big White Wall
Reshma Sohoni, Partner and Co-founder, Seedcamp
George Burgess, Founder and CEO, Gojimo
Morten Lund, Founder, OnlyXO
Brendan Baker, Director, Greylock
Mike DiNucci, Vice President, ChargePoint
Morten Lund, Founder, OnlyXO
Now in its 14th year, Saïd Business School's Silicon Valley Comes to Oxford (SVCO) forum is focused on creating and sharing actionable insight on how to start, scale, and run innovative technology companies. A key event in the entrepreneurship calendar the event brings together leading entrepreneurs, innovators and investors to work on the opportunities and issues facing technology sector businesses, inspiring an audience of students and innovators to change the game in entrepreneurship.
SVCO participants are addressing some of the most exciting opportunities in business today. Their practical experience represents leading-edge thinking on how to create value on a global scale, providing invaluable insight for entrepreneurs and business leaders regardless of sector.
For further details please see here.
To register to attend, or for further information please contact:
Josie Powell, Press Officer, Saïd Business School
Mobile: +44 (0) 7711 387215, Tel: +44 (0) 1865 288403
Email: josie(dot)powell(at)sbs(dot)ox(dot)ac(dot)uk or pressoffice(at)sbs(dot)ox(dot)ac(dot)uk
Jonaid Jilani, Press Officer, Saïd Business School
Tel: +44 (0)1865 614 678 or M +44 (0)7860259996
Email: Jonaid(dot)jilani(at)sbs(dot)ox(dot)ac(dot)uk
Notes to editors:
1. About Silicon Valley Comes to Oxford
Now in its fourteenth year, Silicon Valley Comes to Oxford bridges two world centres of ideas to explore the big issues and future directions of innovation and entrepreneurial phenomena in a vibrant and fast paced mix of masterclasses, tutorials, panel debates and networking events. The leading European entrepreneurship forum, pioneered by the University of Oxford's Saïd Business School, brings business leaders and luminaries from across Silicon Valley to Oxford for a period of focused interaction with faculty, research and student members of Oxford University and the British entrepreneurial ecosystem.
Silicon Valley comes to Oxford 2015 will once again have an impressive line up of visiting VIPs from the Valley and beyond, including established entrepreneurs, founders of start-ups, venture capitalists and funders, theorists and policy influencers. A wide range of technologies and trends will be explored, providing the opportunity to identify future directions.
2. About the Entrepreneurship Centre at Saïd Business School
The Entrepreneurship Centre is the focal point for entrepreneurship research, teaching and practice at the University of Oxford.
Housed in The Launchpad at Saïd Business School the Centre brings together academics, spinout- and student-entrepreneurs, for the study and practice of entrepreneurship and is the doorway to the over 2,000 high-tech companies in and around Oxford. Its programmes and events combine research on and practical teaching of entrepreneurship to support entrepreneurs and high-growth companies.
Students on the MBA and the Executive MBA have access to a broad range of electives, project work, a venture fund, student societies, such as Oxford Entrepreneurs, and open programmes to build up their understanding of entrepreneurship and innovation whilst studying at Saïd Business School. Many MBA entrepreneurship projects evolve into successful new ventures, and Saïd Business School alumni companies now number over 150. About one in ten of the School's MBAs leaves to set up a new venture upon graduation and the Centre has created a vibrant community of entrepreneurs and spin-outs connected to the School that enriches our offerings for students and outside firms alike.
In entrepreneurship research the Centre's faculty brings a distinct focus on the social and cultural dimensions of business in the twenty-first century to researching and teaching entrepreneurship, and use a range of non-traditional disciplinary lenses to look at techno-economic phenomena in their cultural contexts. By drawing on Oxford University's distinct intellectual heritage the Centre's faculty uses a range of theoretical frameworks and intellectual perspectives to reflect the complex nature of entrepreneurship and innovation, including examining the social, economic, cultural, and political structures that help transform ideas into products.
3. About Saïd Business School
Saïd Business School at the University of Oxford blends the best of new and old. We are a vibrant and innovative business school, but yet deeply embedded in an 800 year old world-class university. We create programmes and ideas that have global impact. We educate people for successful business careers, and as a community seek to tackle world-scale problems. We deliver cutting-edge programmes and ground-breaking research that transform individuals, organisations, business practice, and society. We seek to be a world-class business school community, embedded in a world-class University, tackling world-scale problems.