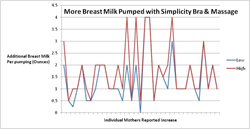 A simple yet powerful tool allows for Breastfeeding moms to pump 20-35% more Breast milk
Kissimmee, FL (PRWEB) March 09, 2015
Most mothers are still unaware of the powerful research by Stanford University* that shows breast pumps still leave a lot of breast milk in the breast. "Research shows that massage while breast pumping allows for more milk to be extracted which signals the breast to make more milk," says Melinda Berry, VP of LactaMed Inc.
"Our Simplicity™ Hands Free Pumping Bra Kit empowers the mother and enables this massage while pumping. Our simple and effective technique has shown how this research can benefit almost every breastfeeding mother who is breast pumping," states Ms. Berry.
A LactaMed survey in January 2015, showed a significant amount of extra breast milk extracted by using the Hands on Pumping technique. While not every mom was successful with more milk output, the trend was clear more breast milk using Simplicity™ while pumping & massaging.
94% of Mothers reported more milk per pumping session at (1.4-1.7 ounces average) when using massage plus Simplicity Bra Kit. Over 68% of moms who used our Simplicity hands free bra kit reported more milk output. For mothers that massaged while pumping 94% reported increased milk output. The amount of additional milk per pumping sessions was estimated on the low side of 1.4 ounces and 1.75 on the high side of mothers who reported results. Some mothers did not quantify increased breast milk output and expressed in written form such as 20% more, a little more, about the same but faster, 1.5X as much. Some mothers that did not massage while breast pumping reported oversupply of breast milk and did not want or need more breast milk output. It should be noted that some moms did not see any increased breast milk output so there is variation in the results.
More detailed results of the survey are available at http://www.lactamed.com.
About LactaMed:
LactaMed, Inc. is the manufacture of the patent pending Simplicity™ Hands Free Pumping Bra Kit. The Simplicity™ is the first affordable, one size fits all, simple, compact hands free pumping bra kit that allows moms to pump hands free but also enable the massage plus pumping technique. LactaMed is dedicated to helping break the barrier to long-term breastfeeding success and is open to creative ideas and approaches to achieve this success.
Contact Information:
LactaMed, Inc.
Melinda Berry
VP Sales and Marketing
Office: 866-322-2471 ext. 700
Cell: 303-748-2782
Melinda.Berry(at)lactamed(dot)com
http://www.lactamed.com
*J Morton et.. Al. Combining hand techniques with electric pumping increases milk production in mothers of preterm infants, J Perinology (2009) 29757-764 http://www.nature.com/jp/journal/v29/n11/abs/jp200987a.html)