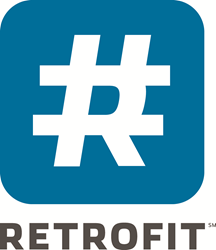 Our relentless passion to transform lives and workplaces is what helps us continue to attract and retain top-notch talent. --Retrofit CEO Mary Pigatti
Chicago, Ill. (PRWEB) March 03, 2015
Retrofit, the comprehensive weight management solution tackling the obesity epidemic at America's leading corporations, today announces the appointment of its new chief technology officer and two additional senior executive positions. CEO Mary Pigatti has recruited technology, healthcare and people leaders to assist with innovation and employee engagement for the fast-growing company, which was recently named one of the best companies to watch for 2015.
"Retrofit is thrilled to announce this new acquisition of outstanding industry talent," said Pigatti. "The depth of combined experience in business development, strategy, and management for technology-enabled healthcare companies strengthens the ability of Retrofit to scale at a faster pace and build relationships with employers throughout the country."
Four out of ten of Fortune's "Best Companies to Work For" use Retrofit. Headquartered in Chicago, Ill., the national weight management company has been making national headlines as it aims to deliver the most personalized, effective and sustainable results. In fact, 90% of its clients lose weight and 68% keep it off 18 months later. Retrofit clients are two times more satisfied than those on other weight loss programs, according to a recent customer satisfaction survey.
Retrofit delivers a turnkey solution for weight loss, including proactive one-on-one coaching, interactive video classes and expert moderated communities that work with cutting-edge mobile apps and devices. Current corporate customers include Google, Salesforce.com, DeVry Education Group, the American Hospital Association and more.
"Our roster of high-profile corporations, personalized approach and proven outcomes sets us apart from the rest of the weight management industry and demonstrates our commitment to improving health, happiness and performance at workforces nationwide," Pigatti said. "Our relentless passion to transform lives and workplaces is what helps us continue to attract and retain top-notch talent."
Retrofit Chief Technology Officer Ammar Darkazanli, PhD, joins Retrofit from Glooko, a Silicon Valley based mobile diabetes & chronic disease management system, and has more than 20 years of experience in developing healthcare software for Class I, II, & III medical devices. He previously held leadership positions at Varian Medical Systems & Boston Scientific. Darkazanli holds a Ph.D. in Computer Engineering from University of Arizona, and is currently completing an executive MBA from New York University.
"I look forward to setting the pace for technology innovation in the weight management space and helping Retrofit continue to deliver its world-class results with the best user experience," said Darkazanli, who will be leading a global team of developers to continue creating seamless integrations with other systems and expanding device options for Retrofit customers.
"I'm thrilled to be part of such a remarkable organization and help shape the culture of health and happiness that Retrofit is built on," said recently appointed Vice President of Human Resources Jennifer Browning, who brings more than 17 years of progressive HR, talent and organizational development experience. She comes to Retrofit from Cleversafe, where she served as Vice President of Human Resources.
Retrofit also welcomes Missy Popp-Lloyd, who joins as director of client engagement, a new position at the organization. Prior to Retrofit, Popp-Lloyd held similar positions at Johnson & Johnson and Alere Inc. Her main goal is to maximize participation and assist companies as they engage and enroll employees in the Retrofit weight management solution.
"The company's powerful ability to inspire lasting behavior change for busy professionals is what brought me to Retrofit," said Popp-Lloyd. "The meaningful work of engaging employees in a weight management solution with such incredible outcomes will speak for itself."
About Retrofit
Retrofit provides a science based, tech-enabled proven approach to weight loss, delivered with the human touch of multi-disciplinary certified wellness experts. Retrofit is the truly personalized, holistic weight management solution that transforms lives and workplaces. Retrofit expert nutritionists, exercise physiologists and behavior coaches help individuals and corporate employees address underlying behavioral issues, and close the gap between what they know and what they do, in order to help them lose weight and live a healthy life they love. Retrofit has raised $15.7 million in venture financing, led by Draper Fisher Jurvetson (DFJ). Cambia Health Solutions also participated. Retrofit can be found on the Web at RetrofitMe.com and by calling 855-4-RETROFIT. Follow the company on Facebook and Twitter at @retrofitme.