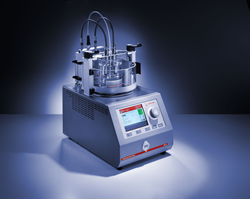 The RKA 5 ring-and-ball Softening Point Tester with laser-based detection system automatically determines the temperature at which a substance attains a particular degree of softness.
St Albans, UK (PRWEB UK) 5 March 2015
The softening point of a material is a useful and important parameter for grading materials. It is used to grade many common materials such as bitumen, waxes, adhesives, sealants and mastics. When developing and formulating new products, knowledge of the temperature at which a material flows is important. This would affect the application of a material such as a hot melt adhesive, aid processing of an asphalt or cause in-service failure during high ambient temperatures.
Newly re-launched under the Anton Paar brand, the RKA 5 uses the Ring & Ball method to determine the softening point of a material. A disc of sample is heated at a controlled rate, this disc supports a steel ball. The temperature at which the ball (enveloped in the sample) falls 25mm is taken as the softening point.
As long as a standardised test protocol is used, this offers a highly repeatable method of determining the point at which your product becomes mobile.
The RKA 5 is an automatic instrument, the sample heating and ball drop detection is fully automated. This frees up the operator to carry out other work in the Lab, as manual ring & ball testing can be a labour intensive operation.
When choosing an automatic instrument for softening testing it is important that it has integral programs covering the standard test methods, offers good temperature control and reliable detection of the falling ball. RKA 5 Ring & Ball tester features multi-point temperature calibration, reliable and accurate Pt100 sensor and temperature rate chart during operation. It also uses a laser scanner system for detection of the falling ball. This reliable detection system covers the entire width of the liquid bath, reducing erroneous results.
The RKA 5 meets the requirements of ASTM D 36, EN 1427, IP 58, JIS K2207, ASTM E 28 and EN 13179.
For road marking materials the main softening point test in use is the Wilhemi method, the RKA 5 can be used for this test, according to EN 1871-F and DIN 1996-15.
Download the RKA 5 Brochure.