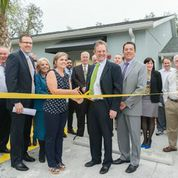 We believe that Novus is part of the solution to end the epidemic of drug and alcohol in the United States.
New Port Richey, FL (PRWEB) March 04, 2015
In a small ceremony with 20 attendees and dignitaries, Novus Medical Detox cut the ribbon on their new facility in New Port Richey on February 24, 2015 with the West Pasco Chamber of Commerce. The new facility will allow the Florida drug detox facility to continue their mission of helping end the prescription drug abuse epidemic through treatment and education. "Due to our unique medical-detox process and the current reality of drug addiction in the United States, we made the decision that expanding our facility was vital," says Novus Detox Executive Director Kent Runyon.
New Port Richey Mayor, Rob Marlowe, was in attendance for the drug detox facility opening, along with the Ambassadors and some Board of Directors from the West Pasco Chamber of Commerce. New Port Richey City Officials and representatives from the police, sheriff's department were there as well. Some of those in attendance were:

Judy DeBella Thomas, Deputy Mayor New Port Richey
Robert Lovering, Chief of Police Port Richey Police Dept.
Kim Bogart, Chief of Police New Richey Police Dept.
Paul Friedlander, Membership Director West Pasco Chamber of Commerce
Overdose is the number one cause of death among those with heroin addiction, and approximately 2% of heroin users die annually. Between 2001 and 2013, the U.S. saw a fivefold increase in the number of heroin overdose deaths. The recent overdoses of actor Phillip Seymour Hoffman and Parks and Recreation Executive Producer Harris Wittels are two prominent examples of the dangers of heroin addiction. Despite the dangers of drug use, there continues to be a large "treatment gap" in this country. According to Runyon, in 2012, an estimated 23.1 million Americans (8.9%) needed treatment for a problem related to drugs or alcohol, but only about 2.5 million people (1%) received treatment at a specialty facility.
Per Runyon, many addicts who seek help for heroin addiction at facilities that use methadone are attempting to become free from illicit drug use, yet find themselves replacing one drug addiction with another. Methadone is a synthetic opioid, and is a highly addictive substance – one that is oftentimes more difficult to withdraw from than heroin. Methadone stays in the bloodstream longer after the pain relief qualities have worn off. Many methadone users have been unable to get off the drug by themselves – a fact which Novus has taken steps to remedy by helping people to detox from Methadone, even high dosages that many detox centers will not touch.
Located in New Port Richey, Novus Detox is licensed by the Department of Children and Families, and is nationally accredited by the Joint Commission. In 2014, Novus Detox made the Inc. 5000 list of fastest growing companies. The drug rehab facility provides superior medical services in a comfortable home-like environment. By combining the best of medical detox protocols and cutting-edge holistic supplements, Novus Detox has been able to achieve a 90% successful completion rate. By creating a safe, nurturing environment where patients are treated with dignity and respect, the healing process can truly begin and they can help people get their life back.
"We believe that Novus is part of the solution to end the epidemic of drug and alcohol in the United States," said Runyon during the ribbon cutting ceremony. "This epidemic effects our cities, communities, neighborhoods and our families. We thank Pasco County for embracing our center and recognizing the need to address this problem. The solution is not found in more jails and prisons. It is found in more education and treatment."
About Novus Medical Detox Center:
Novus Medical Detox Center is a Joint Commission Accredited inpatient medical detox facility that offers safe, effective alcohol and drug treatment programs in a home-like residential setting. Located on 3.25 tree-lined acres in New Port Richey, Fla., Novus is also licensed by the Florida Department of Children and Families and is known for minimizing the discomfort of withdrawal from prescription medication, drugs or alcohol by creating a customized detox program for each patient. By incorporating medication, natural supplements and fluid replenishment, Novus tailors the detox process for each patient, putting the dignity and humanity back into drug detoxification. Patients have 24/7 medical supervision, including round-the-clock nursing care and access to a withdrawal specialist, and enjoy comfortable private or shared rooms with a telephone, cable television and high-speed Internet access. Novus' expansion is tied to their contribution to their industry and their local community, ranking number 48 on the Tampa Bay Business Journal's 2014 Fast 50 Awards list of the fastest-growing companies in Tampa Bay, and number 2,936 on the 2014 Inc. 500/5000 list of fastest-growing companies in America. For more information, visit http://www.novusdetox.com.