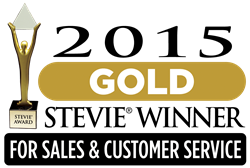 "We dedicate this award to our exemplary service team for representing our organization with passion and professionalism." -V.P. Michael Sahouri
McLean, VA (PRWEB) March 03, 2015
The Stevie Awards have been honoring organizations and professionals on an international scale since for over 10 years. Across six categories, the Stevie Awards have been publicizing the efforts and accomplishments of all recipients. These categories include the American Business Awards, the International Business Awards, the Asia-Pacific Stevie Awards, the German Stevie Awards, the Stevie Awards for Sales & Customer Service, and the Stevie Awards for Women in Business.
The Stevie Awards were founded by Michael Gallagher, as a way to "restore public confidence and investor trust" in rising businesses world-wide. The term "Stevie," is derived from the Greek term "crowned." Business Journal reporter Hayley Ringle referred to the Stevie Awards as the "Oscars of the business world." Indeed, Mr. Gallagher intended this award for truly deserving individuals and organizations to showcase their hard work and success for the world to see.
Great customer service is at the heart of Sahouri Insurance's business model. The Sahouri Value distinguishes the agency from what the insurance industry considers the standard; Sahouri's Value is the ability to consistently recruit, train and retain the rare and invaluable human capital which is difficult to find in any industry. Receiving the Stevie's Gold Award for Sales & Customer Service is another step forward for an agency that employs the most dedicated and honest people, and recognizes them as its biggest competitive advantage.
The Agency's Vice President, Michael Sahouri had the following to say: "I would like to thank Michael and Maggie Gallagher for the years of hard work they have put in to make this possible." When asked what this award means for Sahouri Insurance, Mr. Sahouri responded: "This award speaks volumes to the character we have in this building. We dedicate this award to our exemplary service team for representing our organization with passion and professionalism, making all of this possible. We look forward to many more."
Sahouri Insurance is a privately held, all lines insurance agency based outside of Washington D.C. Sahouri has been successfully serving the domestic and international community with success for over 45 years.
For more information about Sahouri Insurance, the Team, and its services, please contact the marketing department at (703)-883-0500 or visit http://www.sahouri.com