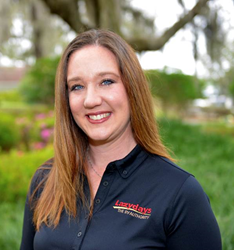 She has a wealth of RV knowledge that combined with her extensive experience in our services division makes her well-equipped in providing customers the best RV service experience
Tampa, Florida (PRWEB) March 04, 2015
Lazydays, the RV Authority and world's largest RV dealership, announced that Ellen Otero has been promoted to Service Manager for the company. A twelve year Lazydays Service expert, Otero will now oversee a team of approximately 40 service team members and continue to ensure a streamlined process for all Lazydays service customers.
At the 220 service bay RV repair center in Tampa, Otero is responsible for managing daily service activities taking place at Lazydays including overseeing technicians, guiding and assisting service advisors, as well as taking care of the individual needs of each customer.
"Over the years, Ellen has demonstrated a sincere commitment to Lazydays and our service customers," said Dave Witty, Vice President of Services for Lazydays. "She has a wealth of RV knowledge that combined with her extensive experience in our services division makes her well-equipped in providing customers the best RV service experience"
Lazydays' Services division is staffed with more than 130 expert RV technicians, woodworking craftsmen and body restorers. These trained professionals help maximize the life expectancy of consumer RVs with RV repair, preventative maintenance services, body and collision repairs as well as emergency RV repairs. Lazydays has more RVIA and RVDA certified technicians than any other RV dealership in the nation. The service facilities consist of 220 service bays in Tampa, FL and 72 service bays in the Tucson, AZ location. Lazydays also offers consumers an exclusive option of manufacturing parts that are no longer in production upon request. From RV service and maintenance to interior and exterior upgrades, Lazydays RV Services division is dedicated to helping consumers enjoy a long-lasting RVing experience.
Otero first joined Lazydays in 2003 and worked her way up from a receptionist for the Service department to Service Advisor to now joining the service management team at Lazydays. In 2011, she was honored with the "Essential Partners Award" as the Service Employee of the Year for Lazydays. Born in Texas and raised in Tampa, Otero comes from a family of avid RV enthusiasts. Her family has been in the RV Industry for years and her father attended the Recreation Vehicle Industry Association (RVIA) school.
"This is an exciting opportunity and I could not be more thrilled to take on more responsibility at Lazydays," said Otero. "Interacting with our customers is the best part about working here and I look forward to continuing to help meet the needs of our customers and contribute to our impeccable customer service record."
About Lazydays
Lazydays®, founded in 1976, is the world's largest RV dealership. Based on 126 acres outside Tampa, FL since 1996 and over 30 acres in Tucson, AZ since 2011, Lazydays has the largest selection of RV brands in the nation. Lazydays features nearly 300 service bays, more than 1500 new and pre-owned RVs, and 2 onsite campgrounds with over 700 RV campsites. Lazydays has built its reputation on providing an outstanding customer experience with exceptional service and product expertise, and as a place to rest and recharge with other RVers. More than a quarter million RVers and their families visit Lazydays every year, making it "their home away from home." Lazydays has been recognized as one of "Top 50 RV Dealer" by RV Business and one of Tampa Bay's "Top Work Places." The Lazydays Employee Foundation, supported by payroll contributions from over 70% of Lazydays' employees, has contributed more than one million dollars to make many historic changes for at-risk children in the Tampa Bay and Tucson communities. For most people, Lazydays isn't just the beginning of their journey; it's very much a part of their ride. To learn more, visit http://www.Lazydays.com.
###